Maria Baltimore has a whopping net worth of $50 million. 
Who else agrees that journalists age like a fine wine? I certainly do! And Maria Sara Bartiromo is the epitome of the statement mentioned above. I don't know about you, but Maria is so gorgeous it makes me want to know more about the woman. 
| | |
| --- | --- |
| Full Name | Maria Sara Bartiromo |
| Net Worth | $50 million |
| Salary | $10 million per year |
| Profession | Finance journalist, News Anchor, TV Personality, Author/Columnist |
| Residence | New York |
| Mom | Josephine Bartiromo |
| Dad | Vincent Bartiromo |
| Siblings | 1 Brother1 Sister |
| Birthday | September 11, 1967 |
| Nickname | Money Honey |
| Birthplace | Dyker Heights, Brooklyn, USA.  |
| Age | 54 years old.  |
| Nationality | American |
| Ethnicity | Italian-American |
| Zodiac Sign | Virgo |
| Religion | Catholic |
| Website | Website |
So, betting with myself, here I am bringing you with everything you and I want to know about Maria. Her bio, net worth, salary, children, husband, house, song, age. And book brother, birthday, and more. 
So, let's get started. 
Maria Bartiromo's Bio, Age, Birthday, & Family
Born in Brooklyn, New Yorn, Maria celebrates her birthday every year on the 11th of September. She spent her childhood since 1967 in Dyker Heights alongside a brother and a sister. Likewise, her father's name is Vincent Bartiromo, whereas her mother's name is Josephine Bartiromo.
Maria holds an American nationality and belongs to the Italian-American ethnicity. Moreover, her parents were the owners of a restaurant named Rex Manor. She says that she always had a great relationship with her siblings growing up. Maria is a very down-to-earth woman who doesn't know how to age apparently. 
Maria's grandfather was a member of the U.S. Armed Forces. He joined the forces in 1933. But, her grandfather arrived in the US around 1898. People also say that she looks like the Italian actress named Sophia Loren. 
Profession & Net Worth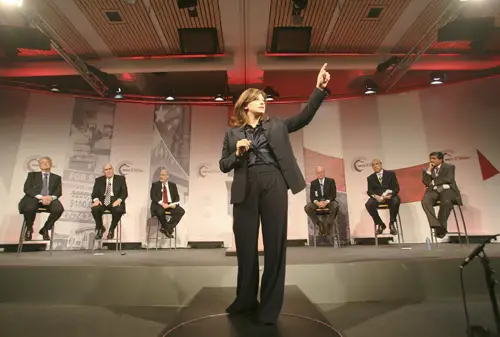 Starting with Maria's income, her annual salary is $10 million. Likewise, she has a whopping net worth of $50 million. 
As stunning journalist Maria is, she is also an author. Likewise, if you have to put labels on her, Maria's profession is a financial journalist, a news anchor, a television personality, and an author. Additionally, she also moderated the 2016 presidential election. 
After working for 5 years as a producer at CNN, she joined CNBC in 1993. CNBC was her big break as she spent 20 years on-air there. The award-winning journalist is popular as she is the first to report live from New York Stock Exchange floor. However, Maria left the channel to join Fox Corporations.  Furthermore, she is quite popular for her shows such as Fox News's Sunday Morning Futures With Maria Bartiromo. Her other work credits include Maria Bartiromo's Wall Street, and Morning with Maria in Fox Business. 
Anyway, Maria is also one of those reporters who amplified Donald Trump's conspiracy theories. As she worked as an advocate for the Trump administration. Not to mention that during the 2020 presidential election, her program went through an on-air correction. And people still have a hard time figuring out why. 
During her time in college, Maria scored an internship in WMCA 570, a Barry Farber's station show. Farber personally chose Maria after seeing her talent during one of her classes. 
When Bartiromo was a young kid, she worked at Kleinfeld's Wedding Dress Shop. But she got fired as she tried new arrivals which taught her a valuable lesson. That you should do your job. 
She owns a beach house in Westhampton, New York with her husband. 
Education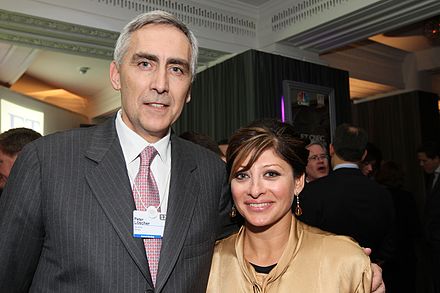 Bartiromo went to an all-girls Catholic school named Fontbonne Hall Academy. Furthermore, she went to study at C.W. Post and later transferred to New York University. In 1989, Maria graduated from Washington Square Campus. Holding a degree in Bachelor of Arts majoring in Economics and Journalism. 
| | |
| --- | --- |
| School  | Fontbonne Hall Academy |
| University  | C.W. PostNew York University |
| Major | Bachelor in Arts (Economics and Journalism) |
Relationship And Children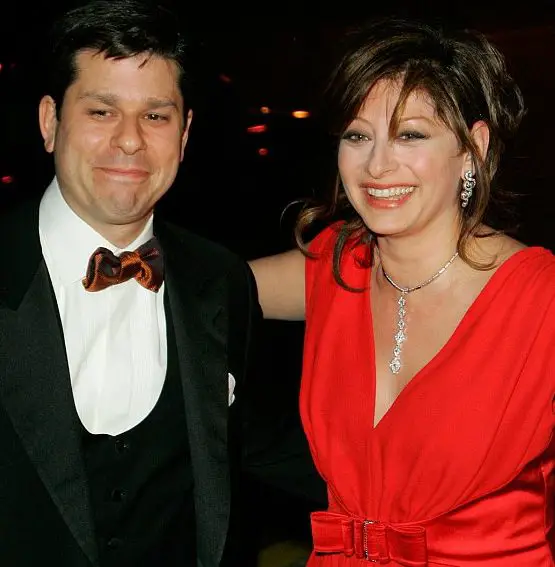 Maria married the love of her life, Jonathan Steinberg in 1999. The exact date of their wedding is not identified yet.  If you haven't figured it out yet. He is the son of a billionaire, Sau Steinberg. 
This couple met in 1990 and really hit it off. And they have been inseparable ever since. Before getting married, the couple lived in a townhouse located somewhere on the Upper side of Manhattan. Over the years of a successful marriage, they manage to keep their life perfectly private. Moving on, Jonathan is the Chief Executive Officer (CEO) of Wisdom Tree Investments.
Talking about private life, the couple doesn't have any children until now. No one knows why. But it's their private life and if they want to keep it a secret. We will respect that6 decision. 
| | |
| --- | --- |
| Marital Status | Married |
| Sexuality  | Straight |
| Children | None |
| Former Partner/Boyfriend | NA |
| Husband's Name | Jonathan Steinberg |
| Wedding Date | 1999 |
Body Measurements
Maria has kept a great shape of her body over the years. As I already mentioned earlier, she aged like a fine wine. Anyway, her height is around 1.65 meters aka 5 feet and 5 inches tall. Likewise, some say that she weighs around 55 kg while some say her weight is around 63 kg. So, it has to be somewhere in between. Since you know weight always fluctuates. 
Furthermore, Maria has beautiful brown hair and a gorgeous green eye. She is almost perfect. Additionally, her body measurements go like this. Her bust and or her breast is 38 inches, while her waist is 28 inches and her hips are 38 inches again. 
There's no information on her shoe size or dress size. 
| | |
| --- | --- |
| Height  | 5 ft 5 in (1.65 m) |
| Weight  | Around 55 to 63 kg (121 lbs to 139 lbs) |
| Body Measurements (chest, waist, hip)  | 38, 28, 38 inches |
| Eye Color | Green |
| Hair Color | Brown |
| Tattoo  | None |
Awards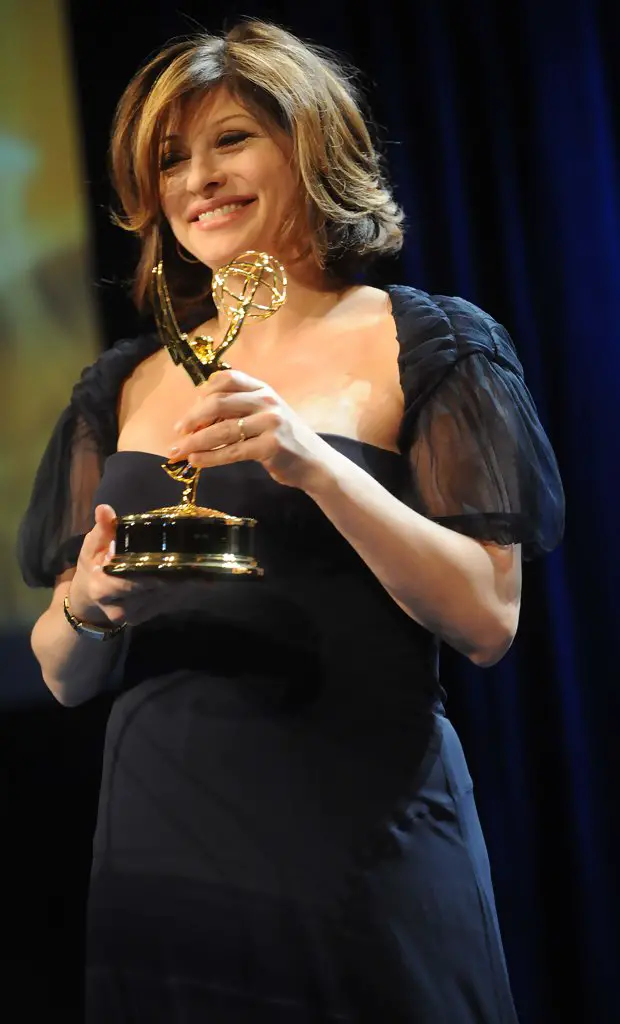 The popular American Journalist is an icon. Over the years she has earned herself multiple awards. Similarly, in 1997, she scored an award named  Excellence in Broadcast Journalism. Likewise, she won two Emmy Awards consecutively in 2008 and 2009. Furthermore, she is also one of those people who is listed 50 times in the Financial Times. 
And has achieved Lincoln Statue Awards and Gracie Award as well.
Awards
Excellence in Broadcast Journalism
Two Emmy Awards
Lincoln Statue Awards
Gracie Award
Social Media