The musician Holly Forbes has been gaining a lot of attention for her bald hair. In fact, people are pretty much interested to know her story and are supporting her.
The reality show "The Voice" has been taking over the internet lately. The show has attracted talented vocalists and Holly Forbes is one of the contestants.
The artist has been showing her outstanding performances in the show. Above all, at the time of the audition, she shocked all judges with her song.
Moreover, all the coaches turned their chairs while she sang Rocket Man by Elton John's. Unfortunately, Ariana Grande was blocked by John Legend.
The mother of two is winning the hearts of millions of viewers and thanks to them now and then for their vote.
Holly Forbes's Profile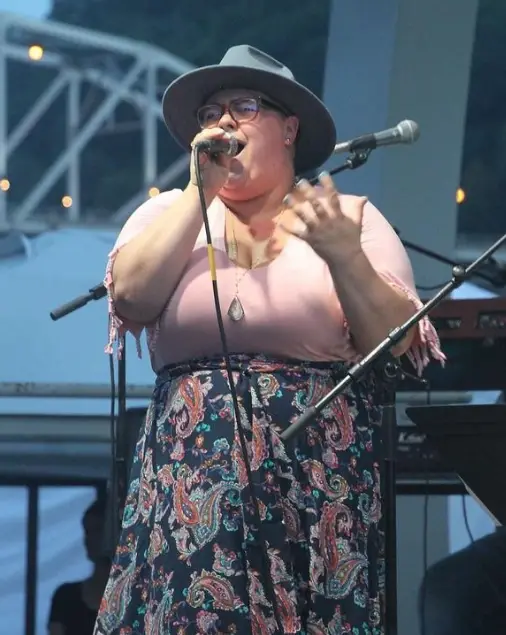 | | |
| --- | --- |
| Name | Holly Elizabeth Forbes |
| Nickname | Holly |
| Gender | Female |
| Profession | Singer and Songwriter |
| Height | 5 feet 7 inches |
| Weight | 110 Kgs |
| Body Size | Unknown |
| Eye Color | Hazel Blue |
| Hair Color | Blonde |
| Date of Birth | 15 August 1990 |
| Age | 31 Years |
| Zodiac Sign | Leo |
| School | Oscar Smith High School, Chesapeake |
| College and University | The Savannah College of Art and Design, Georgia |
| Education Qualification | Graduated |
| Degree | Degree in Art and Design |
| Religion | Christian |
| Ethnicity | Not Known |
| Cast | Forbes |
| Address | Catlettsburg, Kentucky |
| Marital Status | Married |
| Spouse name | Seth Carey |
| Children name | Violet Forbes and Oliver Forbes |
| Parents | Unknown |
| Siblings | Erika Forbes |
| Pet | Keebler (Dog) |
| Net Worth | Unknown |
Holly Forbes's Story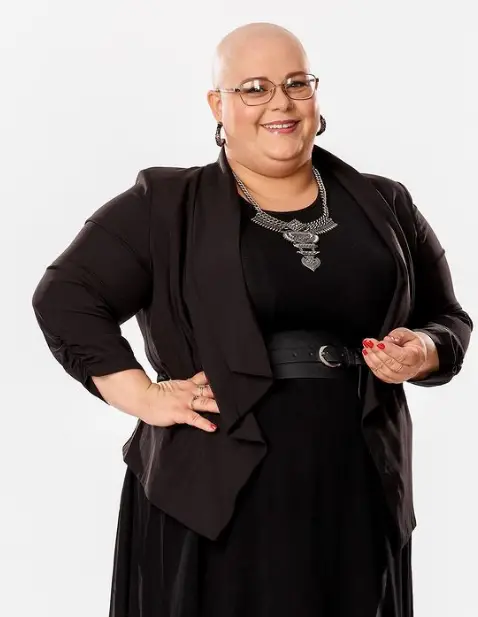 The incredible singer Holly Forbes has a saddening story. Apparently, she was diagnosed with a disease when she was 11 years old. Accordingly, Holly had suffered from seizures.
Even though the artist is rocking her looks with her bald head, she had a difficult childhood. Holly stated that music helped her to get over the depression. Furthermore, Forbes also expressed how terrible the disease is.
Accordingly, the seizures that Holly had led her to take medication. The medication made her hair loss. In her words, it made her hair patchy and brittle.
Other than this, the story of the contestant of Voice is of her family. She has two adorable children and is happily married.
How is the Health of Holly Forbes ?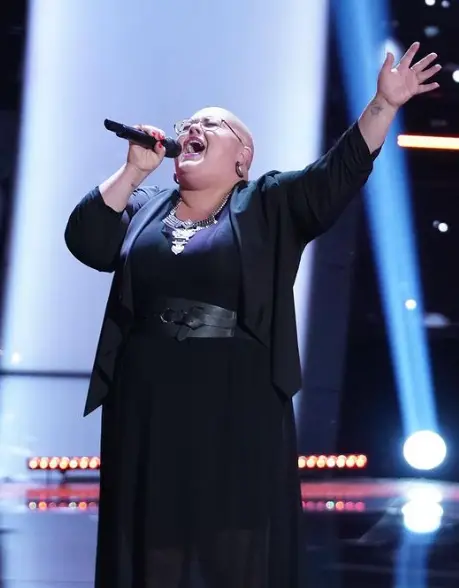 In the early childhood of Holly Forbes, she had several seizures. The medication to help with the seizures made her lose her hair. However, Holly hasn't spoken about her illness now.
Besides the minor seizures, the singer hasn't spoken of any serious disease yet. But, Holly's hair will not grow back after the impact of medications.
Nevertheless of being bald, the soulful vocalist has already adjusted herself to being a confident human. She stated that she has transferred all the energy to her music which is her passion.
Holly Forbes's Team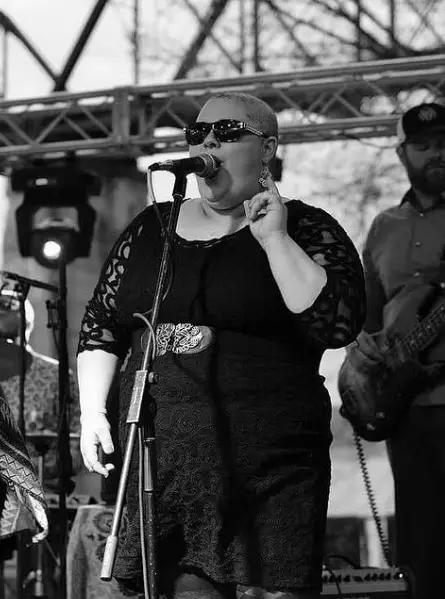 As mentioned that Holly Forbes killed her audition with the song of Elton John. All the coaches turned around and wanted her. Regardless of three options, Forbes chose Kelly Clarkson over everyone.
Moreover, she reasoned her choosing Team Kelly for growing up with her. The vocalist added that she grew up listening to Kelly Clarkson's song.
Sadly, after losing a battle in the Knockouts with the Girl named Tom Band. Despite the defeat, John Legend and Ariana Grande quickly stole Forbes and made some more drama. Team Ariana got the stunning singer Holly and left John with another disappointment.
As a matter of fact, the seven-year-old daughter Violet is a huge fan of Ariana. Holly might have chosen Ariana if she wasn't blocked by John at the time of the audition.
Currently, Holly is in the team Ariana and is gaining much more attention and love from the viewers.
What is the Height of Holly Forbes?
The contestant of The Voice season 21, Holly Forbes has an astonishing height of 5 feet 7 inches. Thankfully, despite the medication she had when she was a kid, it didn't affect her growth.
Moreover, Forbes weighs 110 kgs and sings incredibly. The mother of two is much focused on her passion for singing. Regardless of being bald, the gorgeous 30-year-old singer is confident and pours her heart while singing.
Holly Forbes as a Singer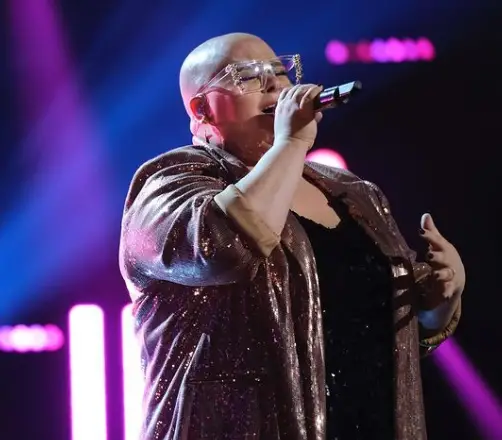 Even though Holly Forbes gained much attention because of her baldness, her singing gains more points in her popularity. The singer has already reached to Top 10 by being a Team Ariana.
Earlier to being a contestant on The Voice, Holly was already singing covers and doing tours. The main reason to join the reality show was the blind auditions. Holly said that the show didn't judge anyone on appearances and she wanted to give it a shot.
In addition to being a singer, Holly also plays piano but doesn't consider her highly skilled at it. Other than this, the amazing artist is a songwriter and used to sing her original songs in her performances. She also mentioned that she used to sing with bands.
Holly Forbes Music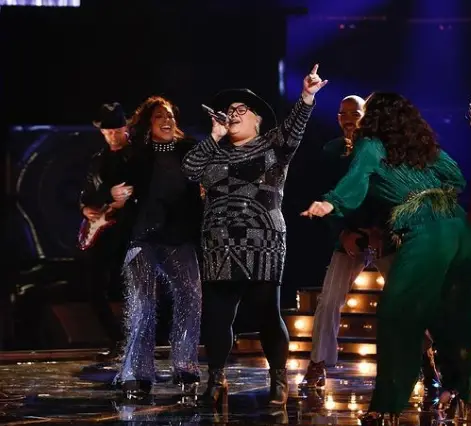 Holly Elizabeth Forbes popularly known as Holly Forbes was in the band Holly & The Guy, and Qiet. The honey-toned artist is currently under the sage soul productions but now she is quite busy shooting for The Voice.
Although the singer has mentioned singing her originals, there was no record of her originals. Her Youtube Channel is compiled up with her cover songs in piano version but her songs aren't up in the channel.
Maybe the musician is busy doing tours and shows to come up with a tremendous release. She has already gained huge followers from The Voice and she might be sold out if she thinks of releasing her music.
Holly Forbes's Instagram
Shockingly, the rising vocalist Holly Forbes hasn't been verified on Instagram. She can be found on Instagram at @hollyforbesmusic. As her username, her posts are all about her music journey.
The incredible artist has more than 30k followers and 836 users following her on her account. Recently, she has been extremely active on Instagram and has more than 1000 posts.
Undoubtedly, Forbes is followed by the coaches of The Voice. Holly also has much of her posts with her Judge Ariana and with other contestants of The Voice.
You can click the link below if you want to follow on her other social media accounts: –
Some Facts on Holly Forbes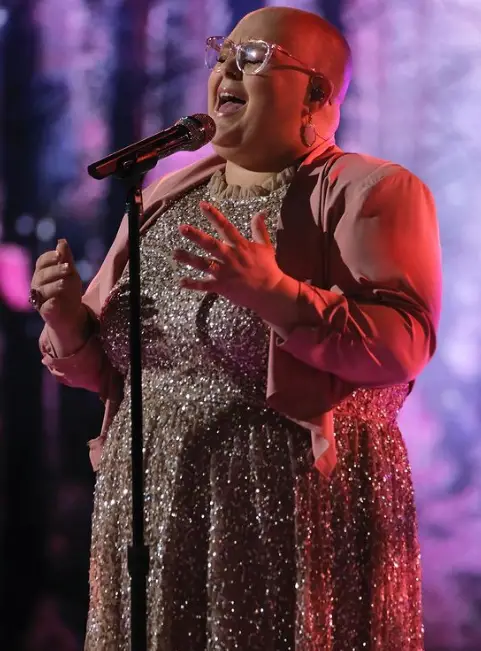 Apart from being a singer, Holly Forbes is a caregiver as well.
She is a mother of two children.Holly has a daughter named Violet and a son Oliver.
Unfortunately, her hair will never grow back but on the good note she loves as she is.
Forbes enjoys playing piano and has a lot of youtube videos of her cover song playing the instrument.