The heir of Playboy Enterprises Cooper Hefner is expected to have $150 million as of 2021. Cooper Bradford Hefner is more than just a businessman. In fact, Hefner is a military member of the USA air force.
Moreover, the patriot is also a teacher, author, and activist. Needless to mention that he is one of the children of the business tycoon.
Hugh Hefner who is the father of cooper is the founder of Playboy Magazine. Apart from this, Cooper is considering running for congress as a democrat.
Cooper Hefner's Profile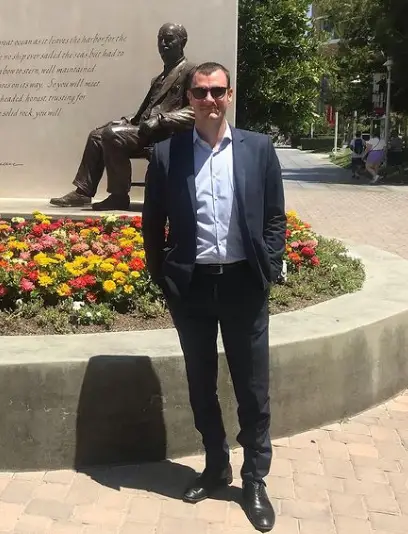 | | |
| --- | --- |
| Name | Cooper Bradford Hefner |
| Nickname | Cooper |
| Gender | Male |
| Profession | Businessman, Airman, Teacher, Writer |
| Height | 6 feet |
| Weight | 75 kgs |
| Body Size | Unknown |
| Eye Color | Dark Brown |
| Hair Color | Dark Brown |
| Date of Birth | 4th Septemeber 1991 |
| Age | 30 Years |
| Zodiac Sign | Virgo |
| School | Ojai Valley School |
| College and University | Champman University |
| Education Qualification | Graduated |
| Degree | Unknown |
| Religion | Christian |
| Ethnicity | Mixed |
| Cast | Hefner |
| Address | California, United States of America |
| Marital Status | Married |
| Spouse name | Scarlett Byrne |
| Children name | Betsy Rose Hefner |
| Parents | Hugh Hefner and Kimberley Conrad |
| Siblings | Marston Glenn Hefner |
| Pet | Bigby (Dog) |
| Net Worth | $150 million |
What is the Net Worth of Cooper Hefner?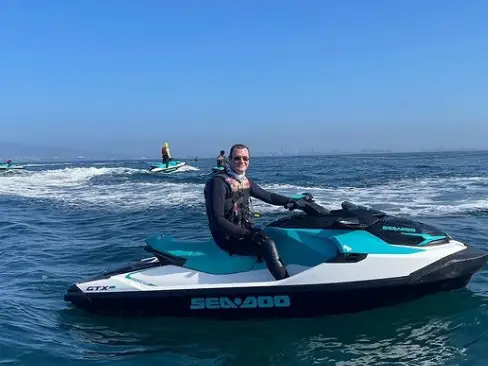 The father of one, Cooper Hefner has accumulated a Net Worth of $150 million. Previously Cooper Hefner was a reservist in USA Air Force. Later he worked as a chief creative officer and chief of global partnership at his father's company.
Currently, Hefner has launched a Media brand. Hefner Media Corporation has a digital platform named Hefpost.
While working as a teacher at Chapman University, he remains on the board of governors as well. Currently, the talented businessman is diversifying his work towards running as a congressman.
Cooper Hefner's Wedding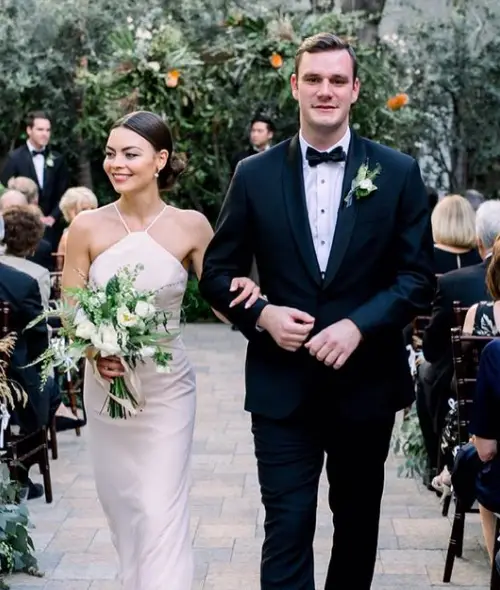 The talented educator and nationalist, Cooper Hefner's wedding took place in a courthouse in 2019. Even though they had a reception later they got married in court.
The talented actress, Scarlett Byrne, and Cooper got engaged back in 2015. Reportedly, the religious Hefner took his grandmother with him while proposing to the actress of Vampire Diaries.
Earlier to proposing he even went to her home to get permission from her father. Currently, the duos have a daughter named Betsy Rose Hefner. The adorable couples recently announced that they were expecting twins on 25th November 2021.
Who is the Girlfriend of Cooper Hefner?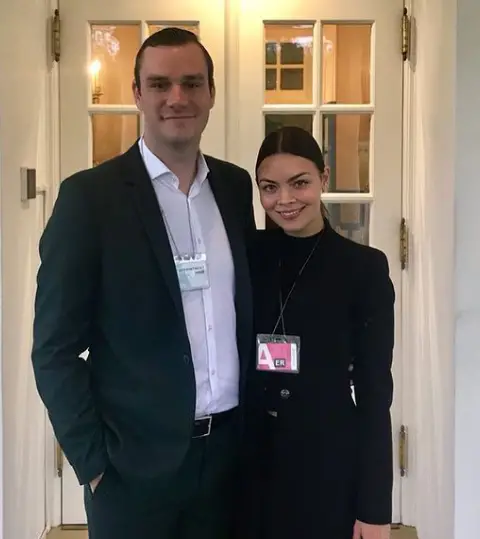 The former CCO of Playboy Enterprises is married to a brilliant actress Scarlett Bryne. The pair has a daughter and are expecting twins soon.
Other than a wife, he has no other girlfriends. Moreover, there is no record of his previous girlfriends. The patriot is totally in love with his wife and are in a relationship for six years.
Cooper Hefner's Child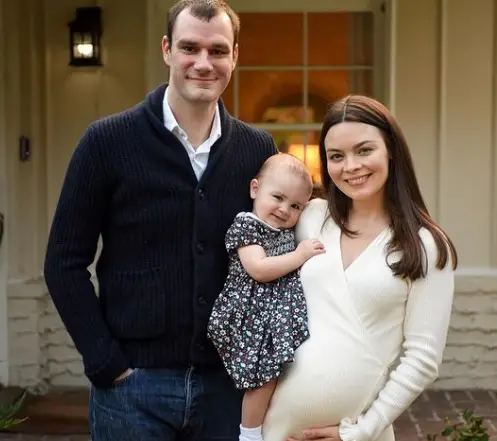 As mentioned, Cooper Hefner and Scarlett Bryne have one child. They announced their expectation of a baby in March 2020. Later on, in the same year, they gave birth to Betsy.
Recently they have also announced their second pregnancy. The Love birds are expecting twins. Without a doubt, they will give birth to appealing and lovable babies soon.
Who is the Mom of Cooper Hefner ?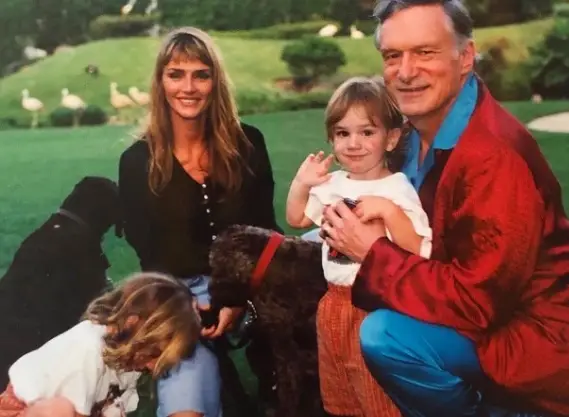 The American businessman Cooper Hefner's mom is the actress Kimberly Conrad. Previously Kimberely was extremely popular. Accordingly, she was the playmate of the year in 1989 A.D.
Mrs. Hefner was also a model who was tremendously famous. However, they had divorced each other in 2010. Reportedly, the reason for divorce as stated by Hugh was because of irreconcilable differences.
Kimberely who is a mother of Cooper and Marston was conservative. Moreover, she turned the playboy mansion into a traditional and old-fashioned household. Cooking at Cooper's values Conrad might have made a good decision.
Cooper Hefner's Height
The former member of the Military Air Force, Cooper Hefner has an astonishing height of 6 feet. The handsome Hefner weighs only 75 Kg. The 30-year-old businessman amazes everyone with his intelligent beauty.
Instagram of Cooper Hefner
The teacher and author, Cooper Hefner can be found on Instagram at @cooperhefner.
Undoubtedly, the U.S Airman is already verified on the Instagram account. In addition to this, he has 116k followers. Currently, the advisor of Belos is following 901 users.
The loving husband is active on his Instagram. Most of his posts are of his daughter and wife Scarlett.
If you want to follow him on his social media, you can click the link below: –
Some Facts on Cooper Hefner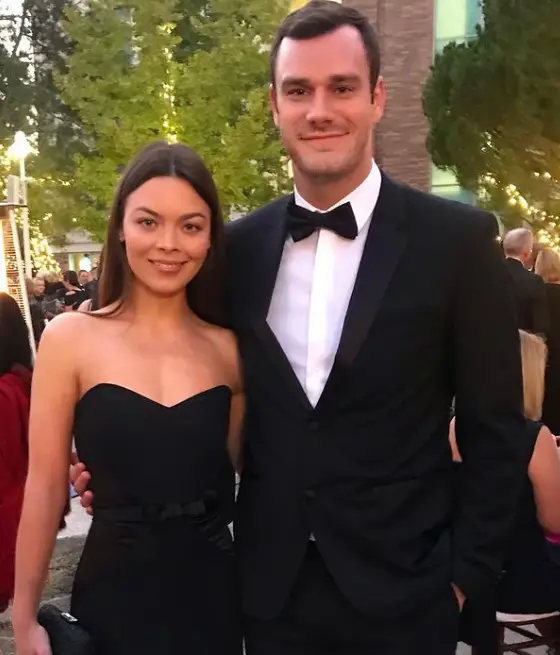 Currently, Cooper is running as a Democrat despite of being a liberal.
Even the patriot had some strong critical opinion on former president Donald Trump.
The heir of playboy enterprises has already resigned as a CEO to go into politics.
Reportedly, he is the following the steps of his father.