Stefanie Dolson is a professional basketball player for the Women's National Basketball Association in the United States (WNBA). She was a member of the Chicago Sky but recently she joined Liberty.
Stefanie has previously played for the Washington Mystics and the Sichuan Whale in addition to the Chicago Sky. The Washington Mystics selected her sixth overall in the 2014 WNBA Draft.
Dolson, with shooting splits of 49/40/95, averaged 7.5 points, 3.5 rebounds, and 1.3 assists per game. She won the WNBA title with Chicago last summer and the first gold medal in Olympic 3-3 basketball history with Team USA in Tokyo last summer, making her the first woman to win both Olympic gold and a WNBA championship in 2021.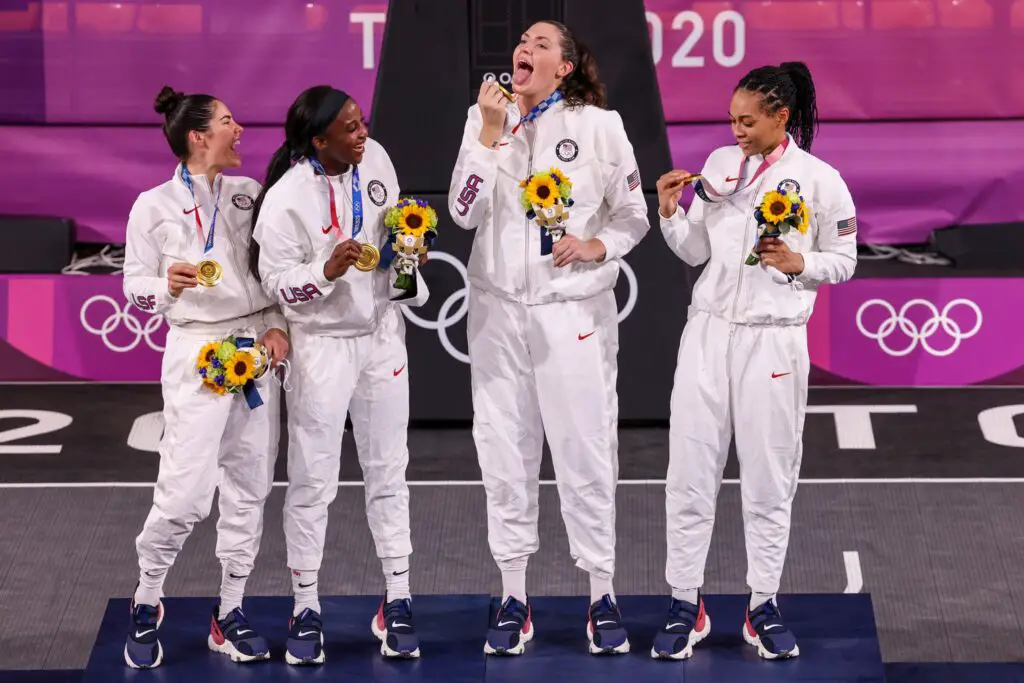 Stefanie Dolson's Profile
Let's take a look at Stefanie Dolson's profile before moving on.
| | |
| --- | --- |
| Full name | Stefanie Dolson |
| Nick name | Stef |
| Gender | Female |
| Birth Date | January 8, 1992 |
| Age | 30 years |
| Birth place | Port Jervis, New York |
| Nationality | American |
| zodiac sign | Capricorn |
| ethnicity | White |
| Parents | Steve Dolson, Kristal Dolson |
| Siblings | Ashley Dolson, Jake Dolson, Courtney Dolson |
| High school | Slate Hill, New York's Minisink Valley High School |
| College | University of Connecticut |
| Profession | Basketball Player |
| Net worth | $1 million – $5million |
| Sexual Orientation | Lesbian |
| Relationship | In relationship with Sharay Hall |
| Marital status | Not Married |
| Children | No children |
Stefanie Dolson's Early life
Stefanie Dolson was born in Port Jervis, New York, on January 8, 1992, to Krystal and Steve Dolson. This rising basketball star is an ethnic white American who was born in the United States. Her zodiac sign is Capricorn.
She went to Slate Hill, New York's Minisink Valley High School. Then she went to the University of Connecticut for her academic education and basketball career after graduating from high school, along with women Breanna Stewart and Bria Hartley. At university, she studied communication sciences.
Dolson was a member of the National Honor Society and a volleyball and basketball player at Minisink Valley High School in Slate Hill, New York. She averaged 18.9 points, 16.7 rebounds, 5.0 assists, and 6.2 blocks as a junior, also 22.8 points, 17.6 rebounds, 5.6 assists, and 5.2 blocks as a senior.
Dolson led Minisink Valley High School to four consecutive New York State Public High School Athletic Association Section 9 title games and concluded her career with 1,951 points and 1,607 rebounds at Minisink Valley.
She was a McDonald's High School All-American and played in the McDonald's All-American Game, where she scored 12 points and grabbed eight rebounds.
Stefanie Dolson's Professional career
Early Career
Stefanie Dolson has been playing basketball since she was a child. However, after being picked in the 2014 WNBA Draft, she began her professional career with the Washington Mystics.
Bria Hartley, a UConn teammate, was taken shortly after her by the Seattle Storm and later traded to the Mystics. Dolson and Hartley combined for 34 points off the bench in a triple-overtime victory over the Los Angeles Sparks on June 1, 2014, and Dolson achieved her first career double-double with 14 points and 11 rebounds.
Dolson had her second career double-double with 12 points and 10 rebounds in her first career start against the Chicago Sky on August 14, 2014.
The Mystics finished third in the Eastern Conference but were swept by the Indiana Fever in the first round of the playoffs.
Dolson had a standout dominating performance in the 2015 WNBA season opener against the Connecticut Sun, collecting 18 points and 12 rebounds in a winning effort. She was picked as a reserve for the 2015 WNBA All-Star Game later in the season.
Professional career
Dolson set career highs in scoring and rebounds during the season. The Mystics would make the playoffs again, this time as the fourth seed in the Eastern Conference, but would be eliminated in the first round by the New York Liberty in three games.
She continued to shine as a starter for the Mystics in the 2016 season. Amazingly, She had a career-high 23 points in a win over the New York Liberty. Not only that, she also set career highs in field goals made and three-pointers made during that contest. With a poor 13–21 record, the Mystics would miss the playoffs.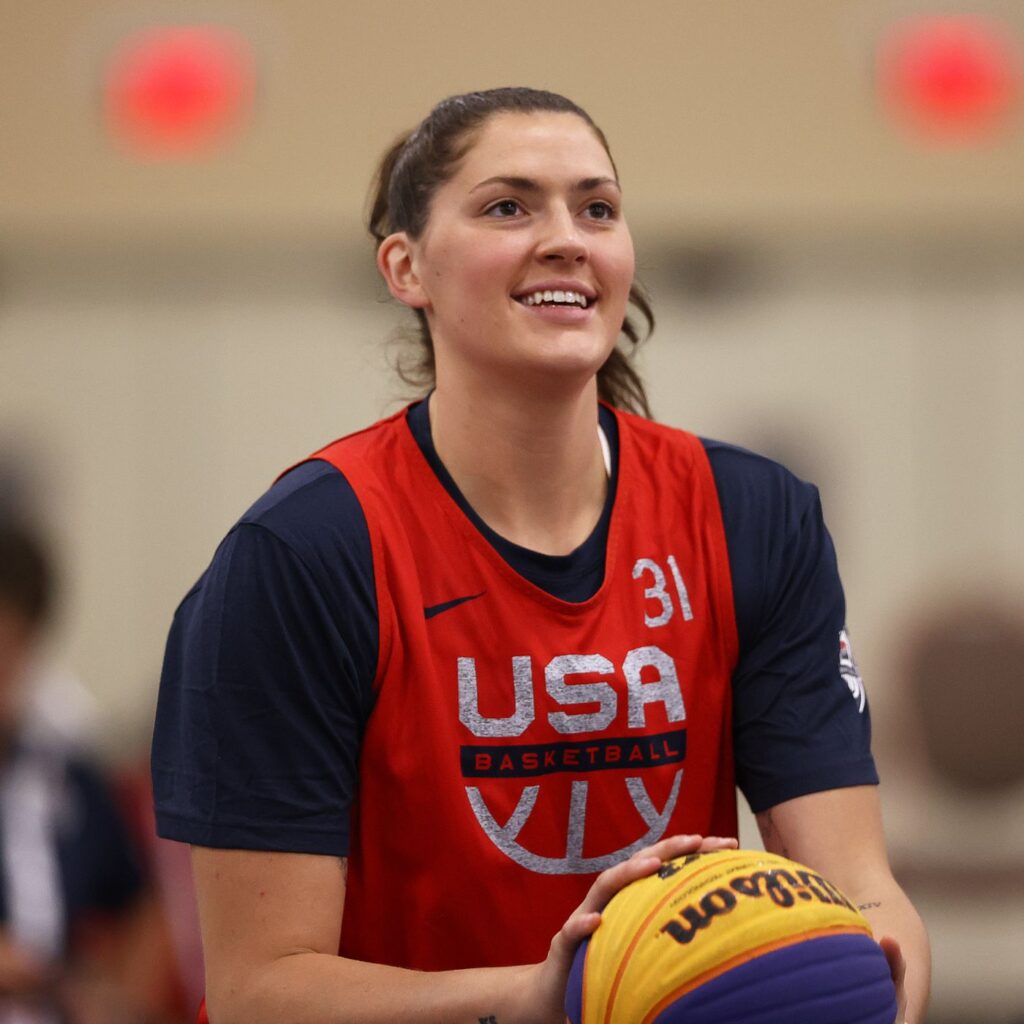 In addition, in her debut with the Sky on May 14, 2017, she scored 9 points and grabbed 2 rebounds in a 70-61 loss against the Minnesota Lynx. Dolson plays for the abroad squad in foreign leagues during the offseasons, in addition to the WNBA leagues.
She has represented WBC Spartak Moscow Region (Russia), Mersin Büyüksehir Belediyesi (Turkey), Sichuan Whale (China), and Dike Napoli (Italy) (in Italy). She has inked a contract with the Henan Phoenix of the Chinese league for the 2018-19 off-season.
Joining Liberty
Recently, Stefanie Dolson, a two-time All-Star center, has joined the Liberty after winning a WNBA championship and an Olympic gold medal last year.
The team confirmed the agreement's existence but did not elaborate on its conditions. Last week, The Athletic claimed that the contract was for numerous seasons.
After spending the last five seasons with Chicago, Dolson, 30, will join New York. She started 115 of her 133 games for the Sky, averaging 10 points and 4.8 rebounds per contest.
The native of Port Jervis, New York, had a busy 2021. Dolson won a WNBA title with Chicago and was a member of the inaugural U.S. three-on-three basketball team, which won an Olympic gold medal. Last season, Dolson was the only player in the league to earn a gold medal and a WNBA championship.
Who is Stefanie Dolson Dating?
Stefanie Dolson does not appear to be married or engaged at this time. Sharay Hall is Dolson's partner. Since 2017, she has been dating her lover Sharay.
Sharay Hall, a Philadelphia native with PSAC ties, was named head coach of the Millersville women's basketball team on September 8, 2020.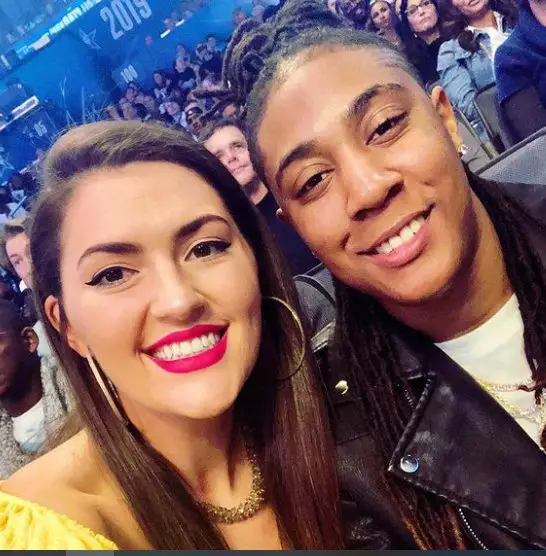 However, there isn't much information on the couples' first meeting.She isn't married yet, thus she doesn't have a wife, according to reports.
Stefanie Dolson is open about her being a lesbian
Dolson discusses her sexuality honestly and openly, and she also adds how normal it is nowadays to talk about same-sex, gay, or lesbian relationships.
In most of her interviews, she simply states that being a lesbian isn't a huge problem anymore because the times and generations have changed.
She has uploaded countless images of herself and her partner on her official social media sites, as well as their pleasant moments together. When looking at her social media accounts, it is clear that she enjoys traveling to new areas.
She is also an animal lover who has maintained a dog as a pet.
Dolson, Stefanie Body Measurements (Height, Weight, and Age)
Stefanie stands at a height of 6 feet 5 inches (1.96 meters) and weighs roughly 214 pounds (97 kilograms). Her current age is 30 years old.
Stefanie Dolson's Net Worth
Dolson's net worth and salary are unknown.
However its no doubt she has amassed a large sum of money. Her net worth is estimated to be around $1 million – $5million.
Stefanie is one of the most well-known players in the WNBA, according to certain official women's basketball websites, and her compensation is expected to rise in future games.
Stefanie may have had a Nike endorsement deal because she shared multiple photographs of Nike shoes in a promotional style. She has certain personal possessions, like the Mercedes Benz and a few other cars, in addition to her financial earnings.
Stefanie Dolson's social Media
We can find her on Instagram as @bigmamastef with 75.2k followers and 632 posts. she has followed 1,457 different personalities on her Instagram. Her Instagram id is verified account with a blue tick. She shares pictures related to basketball, her family and with her girlfriend.
We can find her on Twitter as @bigmamastef with about 27.5K Followers and 3,014 Tweets. She is Following different 432 personalities on her Twitter account. Her Twitter id is verified with a blue tick. She joined Twitter in May 2011.