Who is Roxanne Modafferi?
Roxanne Modafferi is a legendary retired MMA fighter from the United States. Accordingly, she has been a professional fighter since 2003 and is regarded as one of the early pioneers of women's MMA.
As of early 2022, Roxanne officially retired from her profession. Previously, she had indicated her retirement via an Instagram post that the fight with Casey O'Neill at UFC 271 in 2022 would be her final fight. Consequently, she fought her final bout at UFC 271, marking a conclusion to a 19-year career.
Profile of Roxanne Modafferi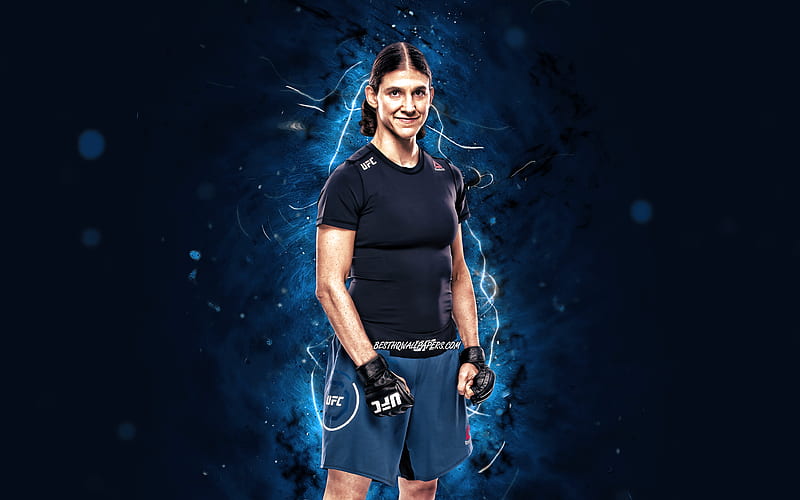 | | |
| --- | --- |
| Full Name | Roxanne Vincenta Modafferi |
| Popular As | The Happy Warrior |
| Birthdate | 24th September, 1982 |
| Place of Birth | Wilmington, USA |
| Gender | Female |
| Profession | MMA Fighter |
| Nationality | American |
| Race / Ethnicity | Italian-Lithuanian |
| Religion | Undisclosed |
| Education | Graduate |
| University | University of Massachusetts |
| Sexual Orientation | Straight |
| Age | 40 Years Old |
| Sun-sign | Libra |
| Eye color | Black |
| Hair Color | Black |
| Height | 5'6" (168 cm) |
| Marital status | Engaged |
| Parents | Catherine Danyla (Mother) |
| Siblings | Undisclosed |
| Partner | Chris Roman |
| Children | Undisclosed |
| Net Worth | $1.5 Million USD |
Roxanne is a brilliant bantamweight and flyweight fighter who has competed in the UFC, Strikeforce, and Invicta FC. In addition, she is most known for her participation on The Ultimate Fighter: Team Rousey vs. Team Tate.
Early-life, Education & Family Background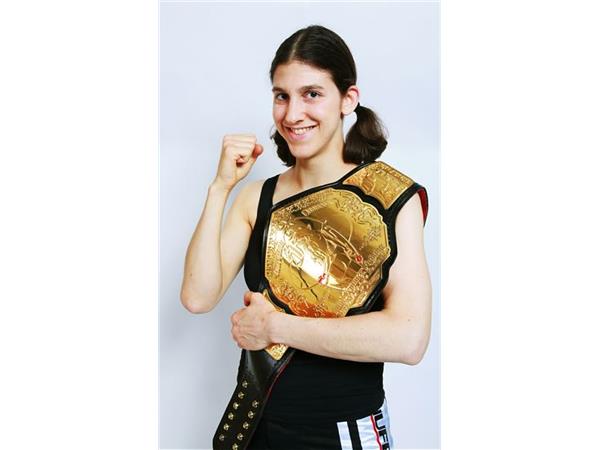 Roxanne Vincenta Modafferi was born in Wilmington, Delaware, on 24th September, 1982. Accordingly, she holds Italian and Lithuanian heritage while her zodiac sign is Libra. She was born to Catherine Danyla (mom) however, the information about her father is undisclosed.
In regards to her educational background, Roxanne attended Lenox Memorial High School for her middle and high school studies. Meanwhile, she trained in karate, judo, and jiu-jitsu. Moreover, she studied Japanese Language and Literature at the University of Massachusetts, with a minor in Linguistics.
Subsequently, in 2003, while studying abroad in Japan, she began fighting professionally. Apparently, Modafferi spent her junior year in Tokyo, Japan, from September 2003 to June 2004. There, she trained at the Cross Point club in Kichijouji, where she learned Muay Thai and BJJ. Consequently, she prepared to compete in a number of NHB and BJJ events.
She won HOOKnSHOOT and had a 3-0 mixed martial arts record in the Smackgirl promotion, defeating Jennifer Howe (at the time, the best female fighter in the United States, if not the world). Following her graduation in 2005, Roxanne served at Berlitz, teaching English in Japan.
Roxanne Modafferi's MMA Journey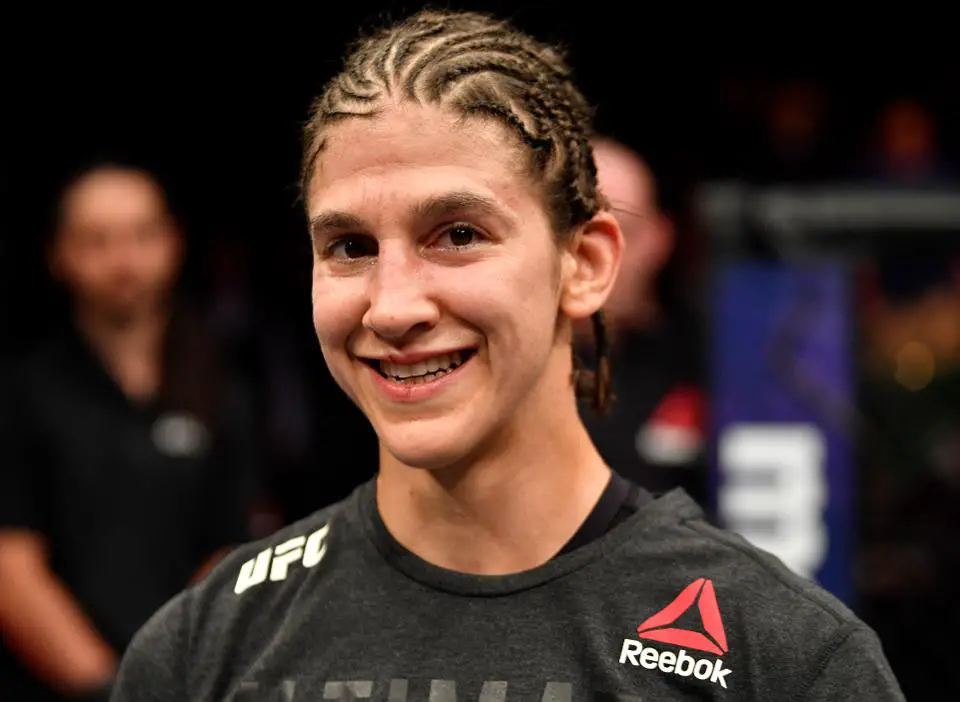 Modafferi is a retired UFC-affiliated mixed martial artist from the United States. She fought in the flyweight division, but she has competed in a variety of weight divisions during her career. Previously, she was ranked #5 in the UFC women's flyweight rankings as of January 20, 2020. Likewise, she was ranked 9th in the UFC women's flyweight rankings as of 2021.
Roxanne is one of the well-recognized women's flyweight competitors in the UFC. Moreover, she is regarded as one of the fiercest competitors in the cage by the MMA community. Nevertheless, she has competed in a variety of events, including Strikeforce and Ring of Combat, to mention a few.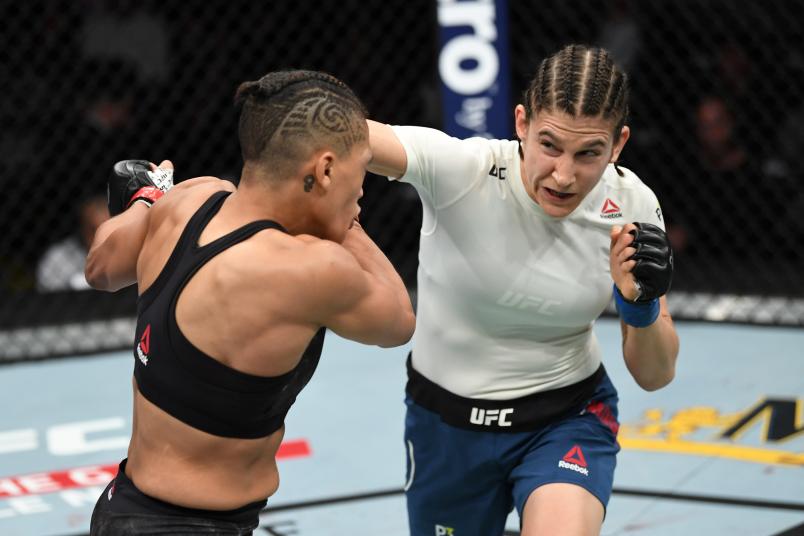 Furthermore, Modafferi made her UFC debut in 2007. Meanwhile, she has also established herself as one of the greatest due to her skills and brilliance. She has has strong physical presence and is a powerful puncher who also serves exceptionally in team setting.
As of 2022, Roxanne has officially retired from her MMA profession. Nonetheless, she competed for the final time at UFC 271, bringing an end to her remarkable 19-year career.
Honors & Achievements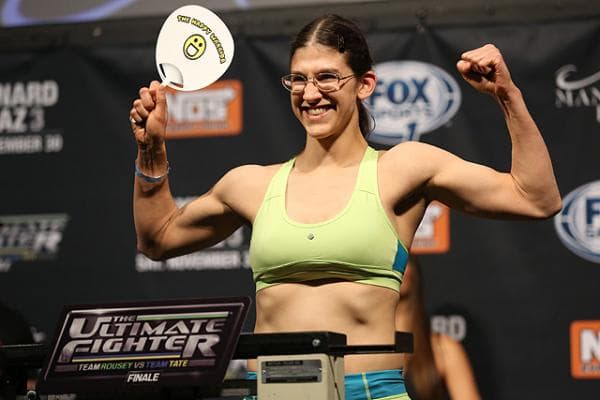 In her professional career, the 40-year-old had a 15-18-0 record. 'The Happy Warrior' has a 4-6 UFC record and has given many outstanding performances during her career. On February 2, 2007, Modafferi triumphed at Fatal Femmes Fighting. Similarly, on 27th May, 2007, she defeated Hee Jin Lee, Megumi Yabushita, and Marloes Coenen to claim the K-GRACE Women's Open-Weight Tournament.
Furthermore, considering her outstanding effort, she was also received the Fight of the Night award. In addition to her UFC credentials, Modafferi holds a Black belt in Brazilian Jiu-Jitsu and a Brown belt in Judo.
Modafferi's Personal-life & Relationships
Roxanne Modafferi, a retired UFC women's flyweight competitor is currently engaged to Chris Roman, her long-term boyfriend. In addition, Modafferi was proposed to by her boyfriend Chris Roman inside a cage at a Titan FC event.
Besides, her boyfriend turned fiancé is also a MMA fighter by profession. Moreover, Chris is a featherweight fighter with a professional MMA record of 3-3.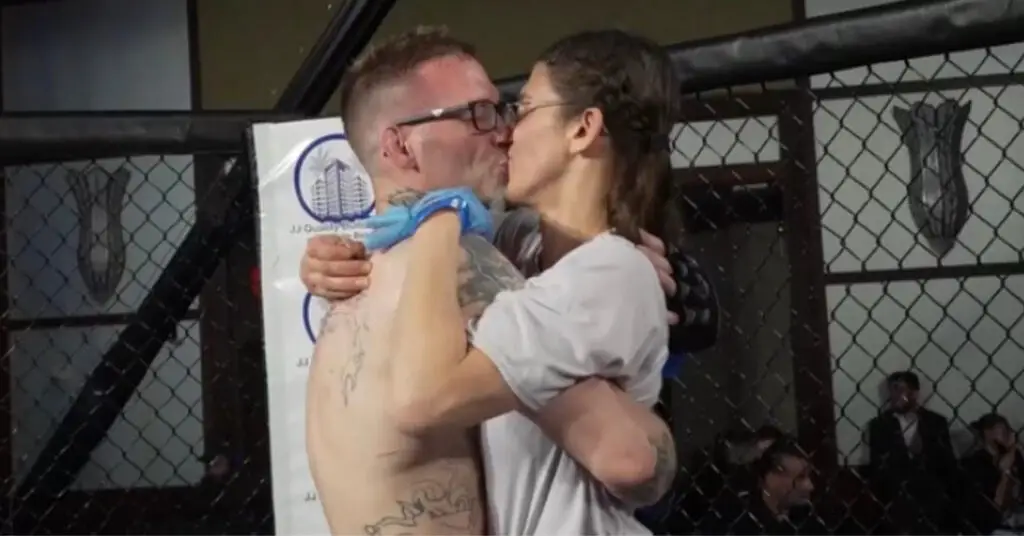 Physique
Roxanne is 5 feet 6 inches tall and weighs approximately 57 kg. Similarly, she has a beautiful pair of black eyes and long wavy black hair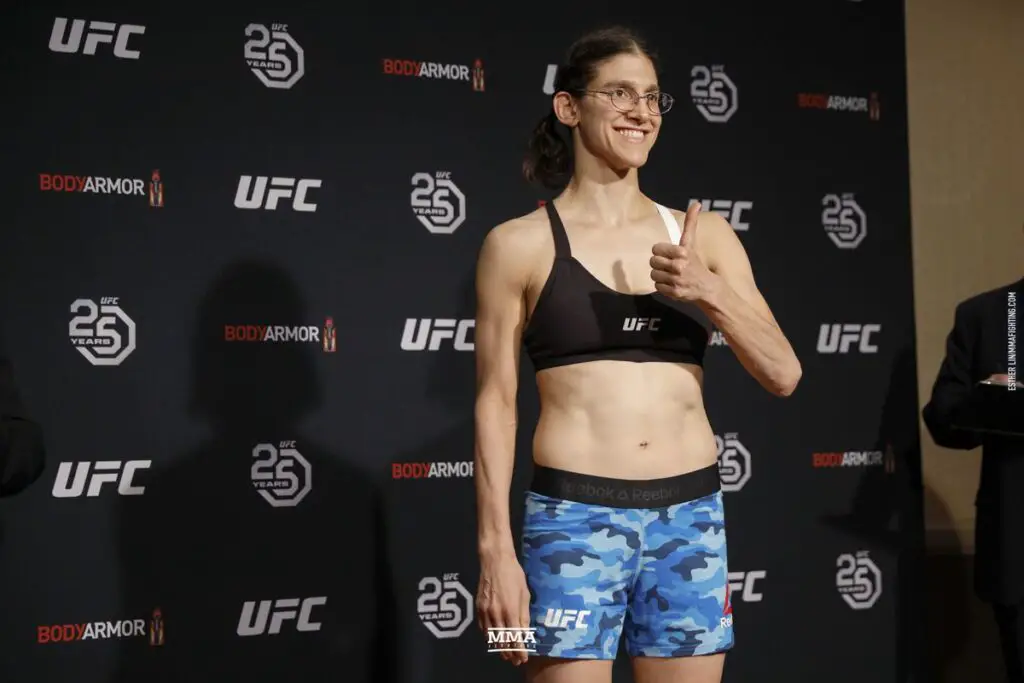 Social Media Handles of Roxanne Modafferi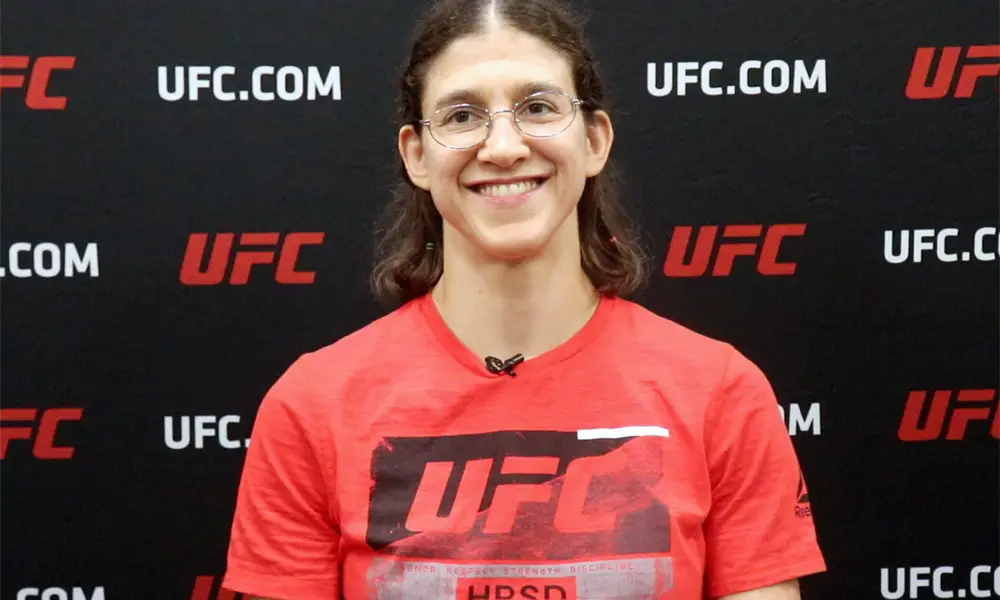 Roxanne is a popular figure in several social media platforms. She has a sizable fan-base on her personal social media handles. Specifically, she has more than 112k followers on her personal Instagram account. Likewise, she has over 59.3k Twitter followers as well.
Net Worth of Roxanne Modafferi
Roxanne Modafferi is a well-recognized retired MMA fighter. Nonetheless, Modafferi has amassed a fortune of $1.5 million throughout the course of her professional career. In addition, Roxanne has also received revenues via advertisements, sponsored partnerships, and model endorsements.