Patrick Kielty (born 31 January 1971) is a comedian and television personality from Northern Ireland.
Kielty was born in Downpatrick, County Down, Northern Ireland, and grew up in Dundrum, a nearby village. He is one of three sons of businessman John "Jack" Kielty, who was assassinated on January 25, 1988, by the Ulster Freedom Fighters (UFF), a cover name for the loyalist paramilitary group the Ulster Defence Association (UDA).
Jim Craig, who was suing the television firm over a broadcast of The Cook Report that linked him to racketeering and is claimed to have ordered John Kielty's murder, was to have been a key witness in Central Television's defense of a libel action launched by Jim Craig.
Kielty was a brilliant Gaelic player as a teenager, and he played for the Down GAA minor football team for three years, from 1987 to 1989. He was the team's backup goalkeeper when they won the All Ireland Minor Football Championship in 1987.
| | |
| --- | --- |
| Net Worth: | $15 Million |
| Date of Birth: | 1971-01-31 |
| Gender: | Male |
| Height: | 5 ft 9 in (1.778 m) |
| Profession: | Presenter, Comedian, Screenwriter |
| Nationality: | United Kingdom |
Patrick Kielty Net Worth
Patrick Kielty is a $15 million net worth Irish comedian and television personality. That is his net worth with his wife Cat Deeley combined. Patrick Kielty was born in January 1971 in Dundrum, County Down, Northern Ireland.
He has appeared on Celebrity Love Island, Comic Relief Does Fame Academy, Stand Up for the Week, Mock the Week, Breakfast, and The One Show, among other shows. Patrick Kielty Almost Live and Live at the Apollo are two stand-up specials in which Kielty has appeared.
Patrick married Cat Deeley, a television presenter, in 2012, and their first child was born in January 2016. In June 2018, they had their second son.
In 2000 and 2003, Patrick Kielty was nominated for Best Television Personality at the Irish Film and Television Awards. He is very involved in a number of charities, including Soccer Aid and Sport Relief.
Patrick Kielty Height
Fame Academy's Irish TV presenter. In a 2006 issue of The Sunday Mail, he stated that he was "5ft 11".
Patrick Kielty Wife
Fame Academy's Irish TV presenter. Cat Deeley has recounted the romantic story of how her husband Patrick Kielty changed their friendship into romance by going all the way from Belfast to Los Angeles for a brunch.
Patrick, 49, 'knocked my socks off,' said the TV presenter, 44, on the Made By Mammas podcast, where she explored marriage, motherhood, and how gun culture in the US led to the family's choice to return to the UK after 14 years in California.
Cat and Patrick, a television host, have been married since 2012 and have two boys, Milo, four, and James, two.
The duo had been friends for years before their friendship blossomed into romance as a result of Patrick's generous act, having met while co-hosting Fame Academy in 2002.
Patrick Kielty Comedian
Kielty began performing on a regular basis while attending St Patrick's Grammar School in Downpatrick. A Games master who noticed Kielty's impersonations of local officials, celebrities, and sportsmen convinced him to participate.
His professional career began while he was still a psychology student at Queen's University in Belfast, when he appeared in "The Empire Laughs Back," a show staged in The Empire Music Hall on Botanic Avenue in Belfast, which he and fellow student Jackie Hamilton, who went on to become a BBC producer, started. Donning a balaclava and making fake paramilitary statements was one joke performed at local gigs.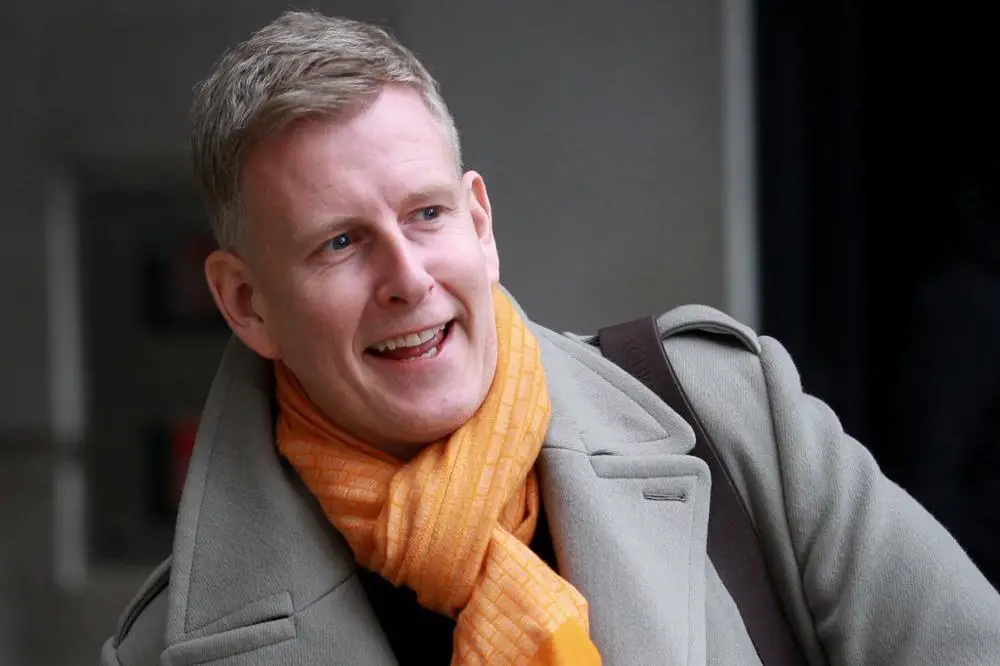 Kielty hosted the UTV show SUS in 1993. Later, he was the warm-up act for Anderson on the Box, a BBC Northern Ireland show hosted by local celebrity Gerry Anderson. When this show was cancelled, he replaced it with PK Tonight.
Although it only lasted a year and was exclusively broadcast in Northern Ireland, it drew the attention of London-based broadcasters, earning him the "Best Newcomer" Award at the 1996 Royal Television Society Awards. In 1997, he co-founded the Belfast-based TV production business Green Inc with TV director Stephen Stewart, where he produced series such as The Afternoon Show, Patrick Kielty Almost Live, and Ask Rhod Gilbert.
Kielty's stake in the company was said to have been sold in 2010. Kielty on to presenting shows such as Last Chance Lottery and Patrick Kielty Almost Live, which were shown across the UK. Following his liver transplant, former football great George Best gave his first TV interview to Kielty on the same episode.
Kielty presented 14 episodes of the comedy game show Stupid Punts from 2001 to 2003. He also hosted an After The Break series. He impersonated Martin McGuinness (who had a passing resemblance to Art Garfunkel) while singing "Bridge Over Troubled Water" by Simon and Garfunkel.
Kielty continued to appear on national television in 2005 and 2006, largely in light entertainment series such as the BBC's Fame Academy, Comic Relief Does Fame Academy, and Love Island for ITV.
Kielty hosted the Special Olympics Opening Ceremony in Croke Park, Dublin, on June 21, 2003, in front of an estimated global audience of 800 million viewers. Nelson Mandela, Mohammed Ali, and U2 were among the other participants.
In 2006, he co-hosted a section on ITV's coverage of The Prince's Trust 30th Birthday LIVE with Kate Thornton. In early 2004, he presented the original pilot episode of the American version of Deal or No Deal for ABC. However, ABC decided not to run the series, which ended up airing on NBC with Canadian comic Howie Mandel as the presenter.
He also appeared on the BBC's third series of Live at the Apollo in 2007. On May 18, 2007, Kielty was invited to a combined in-depth TV interview with UK Prime Minister Tony Blair and Irish Taoiseach Bertie Ahearn at 10 Downing Street in London to discuss the Northern Ireland peace process.
He hosted the Saturday morning show on BBC Radio 2 for ten weeks, beginning on July 24, 2010. Kielty co-hosted Sport Relief with Fearne Cotton in 2010 and 2012.
Kielty hosted the first series of Channel 4's Stand Up for the Week, which aired for six weeks beginning in June 2010.
Patrick co-hosted a few episodes of The One Show with Alex Jones in 2014 and 2015.
Kielty appeared on the RTÉ series "All the walks of life" in 2021, when he discussed his childhood and the principles he holds.
Patrick Kielty Family
Patrick Kietly moved on and grew up in Dundrum, a nearby community. He comes from a household of three brothers.
His father was a businessman named Jack Kielty. Patrick was 16 years old when his father was killed by the Ulster Freedom Fighters (UFF) on January 25, 1988. Mary Kielty is Patrick's mother's name.
Patrick Kielty Wedding
Kielty had been in a long-term relationship with Cat Deeley, a television presenter. They married in a private ceremony in Rome on September 30, 2012. On January 19, 2016, the couple welcomed their first child.
Patrick Kielty Instagram