In a world where we can read news in the palm of our hand, we assume there are hardly any Americans who do not recognize the name, Laura Ingraham. It is a commonly recognized name in the American media field.
Laura Ingraham is an American conservative television celebrity. She has been the host for the Fox News Channel since 2017. Also, She is well-known as a former politician, radio host, commentator, and judicial clerk.
Although the television personality first began her career as a writer and politician, she later found her calling in the media. From radio show host to the Fox News Channel, she has climbed quite the steps of success and fame.
Laura is a fearless and upfront woman who does not hesitate to speak against any disparities. She has shown the world that the drive of willpower and passion gives you the means to achieve what you dream of.
With that said, let us run by the quick facts about Laura before we divulge into her personal and professional life.
Laura Ingraham's Profile
Before moving any further let's have a look at Laura Ingraham's Profile.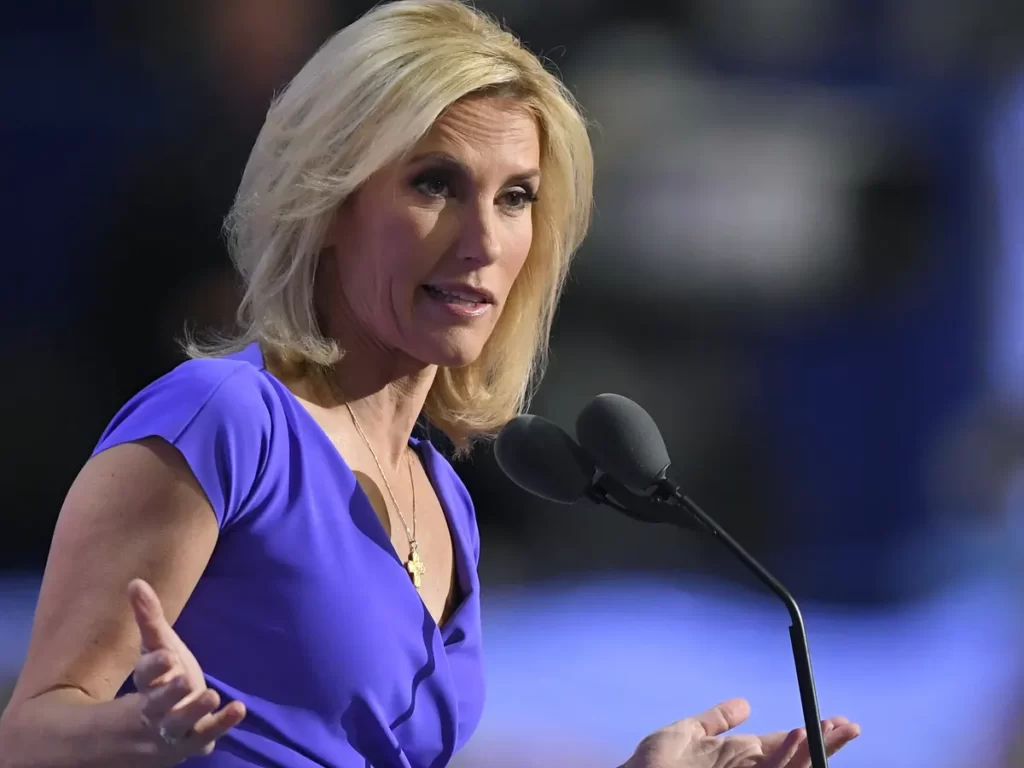 | | |
| --- | --- |
| Full name  | Laura Annie Ingraham |
| Common name  | Laura Ingraham |
| Nickname  | Laura |
| Gender | Female |
| Date of Birth  | 19th June 1963 |
| Place of Birth  | Glastonbury, Connecticut, USA |
| Age  | 59 years |
| Zodiac sign  | Gemini |
| Nationality  | American |
| Religion  | Christian |
| Ethnicity  | Mixed |
| Sexuality | Straight |
| Father name | James Frederick Ingraham III |
| Mother name  | Anne Caroline |
| Siblings | Three |
| Siblings Name | Curtis Ingraham |
| Martial Status  | Unmarried |
| Children | Three (Adopted) |
| Children's Name | Maria Caroline, Michael Dmitri & Nikolai Peter |
| Ex-boyfriends | Keith Olbermann, Robert Torricelli & Dinesh D'Souza |
| Current Boyfriend | Unknown |
| Education Qualification  | Graduated |
| School | Glastonbury High School |
| College | Dartmouth College |
| University | University of Virginia  |
| Relatives  | Not available |
| Residence | McLean, Virginia |
| Hobbies | Speaker, Lawyer & Writer |
| Profession  | Political Commentator/Radio & TV Host |
| Active Years  | 1980 – Present |
| Famous For  | TV Show host |
| Source of income  | Hosting, Writer, Realtor & Investor |
| Salary  | 15 million dollars per year |
| Net Worth  | 70 million dollars |
Laura Ingraham Biography
The famous news anchor was born in Glastonbury, Connecticut in the United States of America 1963, on June 19. 
She grew up in the small town of Glastonbury, along with her three siblings.
Her parents, James Frederick Ingraham III and Anne Caroline welcomed Laura into the world. Her father was a World War Second veteran of Irish ancestry and died when Laura was little but a child.
Similarly, her grandparents from her mother's side have got Polish origin. And we have reason to believe that she is not the eldest child, as she has an elder brother named Curtis Ingraham. 
She also has two brothers apart from Curtis, but we are not aware of them at the moment.
There is not much information on her family members. However, she is a mother of three children, whom she adopted at different periods of her life.
Laura Ingraham Early Life & Education
Laura was raised by her mother and grandparents in Connecticut, where she completed her schooling at Glastonbury High School in 1981. She then moved to Hanover, New Hampshire, to attend Dartmouth College.
In 1985, she got a bachelor's degree in major arts from the college.
Not long afterward, the graduate returned to college to study law. She attended the University of Virginia School of Law. She graduated with a Juris Doctor in 1991 and worked as a law clerk in the U.S. Court of Appeals in New York.
She also studied Spanish and Russian and can read and write reasonably well.
Laura Ingraham Nationality, Religion, Zodiac Sign, and Ethnicity
Laura Ingraham is of American nationality, while she has mixed ethnicity. She has adopted Polish and Irish cultures from her mother and father, respectively.
At first, she was raised as a Baptist by her parents. However, later in life, she converted to Roman Catholicism. She strictly follows and acknowledges Catholic norms and traditions.
As Ingraham was born in June, her star sign is Gemini. 
Like the traits of a Gemini, which is goal-oriented, exuberant, and adores being in the spotlight. Laura has always loved and fought for being in the limelight of every field she entered.
Laura Ingraham's Age, Height, Weight, Body Measurement & Body Appearance
As of June 2022, the well-known TV star is 59 years old. She has a well-tended body with robust health and beauty.
The 49-year-old stands out to be 5 feet and 7 inches tall. In centimeters and meters, she is 170cm or 1.7m tall. And lately, she weighs about 57 kilograms.
With decent height, she has got beautiful blonde hair that falls up to her neck. She also got a pretty alluring pair of eyes that are hazel.
Although she is about to hit 60, she has maintained her body and health remarkably.
| | |
| --- | --- |
| Height  | 5 feet 7 inches or 170 cm or 1.7 m  |
| Weight  | Approx. 57 kgs or  126 Lbs |
| Body dimension ( i.e., chest, waist, and hips size)  | 35-26-37 inches |
| Chest size  | 35  inches |
| Waist size  | 26 inches |
| Hips size  | 37 inches |
| Eye Color  | Hazel |
| Hair Color | Blonde |
| Hair length          | Short |
| Dress size  | 6 (US)  |
| Shoe size  | 10 (US) |
| Tattoos  | Unknown |
| Piercing  | Unknown |
| Body build  | Slim  |
Laura Ingraham's Relationships and Children
Though Laura has always remained unmarried, there are many rumors of her engagement and relationships.
Ingraham is said to have almost married James Reyes in 2005. He is an American real estate magnate and beer distributor. According to Ingraham, they got engaged in April of the same year. But they broke off their engagement because she was battling breast cancer shortly after their encounter.
The writer was also once engaged with die-hard conservative critic Dinesh D'Souza. They knew each other through The Dartmouth Review, as both of them were colleagues.
D'Souza is a naturalized American citizen who is initially from Mumbai, India. And he was also involved in the anti-Obama documentary. That is why maybe the blonde TV host and the hardcore conservative fell in love due to their similar thinking behavior.
Dinesh once told Vanity Fair, "It was my mission to marry the all-American girl." Even so, evidently, he was not meant to be the all-American's girl husband.
Laura Ingraham Dating History
Back in 1999, the hazel-eyed beauty was rumored to have dated North Carolina Senator, Lindsey Graham at The Palm steakhouse in Washington D.C.
In a 1999's January article in the Washington Post, it was stated that the two were seen hand-holding at the cozy steakhouse.
Likewise, according to The Atlantic, Laura once went on a date with Donald Trump, which did not go well. She has known Trump since the 90s and was an early supporter of his political involvement.
Interestingly, Laura Ingraham's dating history also includes a couple of straightforward Democrats.
As to The New Yorker, she had a fling with sports journalist and Democratic pundit Keith Olbermann. Olbermann, the former MSNBC host, was enigmatic about the reason for their short stretch.
Moreover, there were whispers that she dated New Jersey Democratic Senator Robert Torricelli, as well as former Harvard University President Larry Summers. Her relationship with Summers was even published in an article from the school's newspaper, The Harvard Crimson.
Laura Ingraham Kids
The reporter never really tied the knot with anyone and is officially single. However, that has not stopped Laura from becoming a mom.
Currently, she has adopted three children. The first daughter she adopted was in May 2008 from Guatemala. Her name is Maria Caroline.
Further, the other children were adopted by the family from Russia in 2009 and 2011. The other two are boys named Michael Dmitri and Nikolai Peter.
Laura Ingraham's Career
Laura began to work early in her college days. She worked as a speechwriter in the Reagan Administration for the Domestic Policy Advisor in the Reagan Administration. She also briefly worked as an editor for The Prospect during the same period.
In 1991, after she became Juris Doctor, she served as a law clerk for Judge Ralph K. Winter Jr. of the U.S. Court of Appeals in New York. Subsequently, she clerked for U.S. Supreme Court Justice Clarence Thomas. After gaining valuable experience, she worked as an attorney at Skadden, Arps, Slate, Meagher & Flom, based in New York.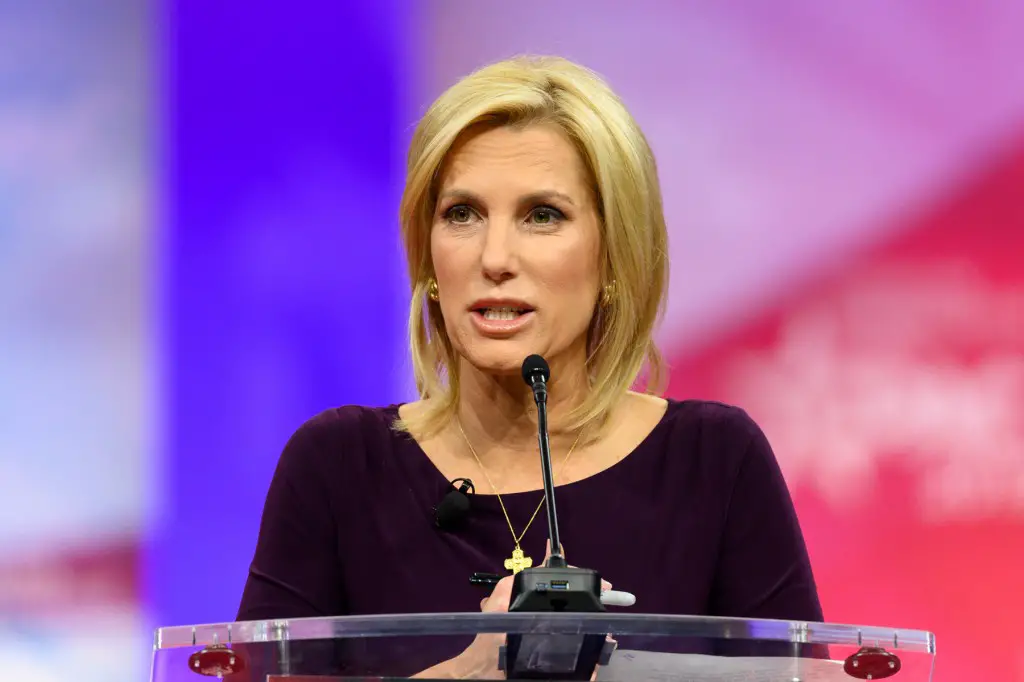 As Ingraham has a frank and blunt opinion and is a true nationalist, blending among the legal parties was not an issue. Ingraham, soon rose to higher positions and started attaining a reputation as one of the promising young conservatives. 
The judicial clerk then decided to switch careers again and shifted to the media field. She began her hosting career as a cable television anchorperson before switching to her first hosting job on MSNBC in 1996. And in the late 90s, she became a CBS commentator and hosted the program 'Watch It!.'
Laura Ingraham Radio Journey
Several years later, she finally joined hands with Fox News. Laura landed as the host for the show This Just In,  which was a three-week trial run by the channel. She would eventually advance to a much more leading role in 2017 when she started hosting The Ingraham Angle.
Anyway, before her work with Fox News, Ingraham debuted the radio program The Laura Ingraham Show. That was in 2001, but in due course, she settled with the Talk Radio Network. Finally, in 2018, her show went off the air, although she keeps making content for her podcast.
Laura Ingraham Other Ventures
Besides that, Laura Ingraham co-founded LifeZette, a conservative American website. She and businessman Peter Anthony established the website to promote conservative Americans' views and opinions. Moreover, she is the executive editor of LifeZette.
In any case, in 2018, the co-founder confirmed that she sold the majority stakes of the website to The Katz Group, owned by Canadian billionaire Daryl Katz.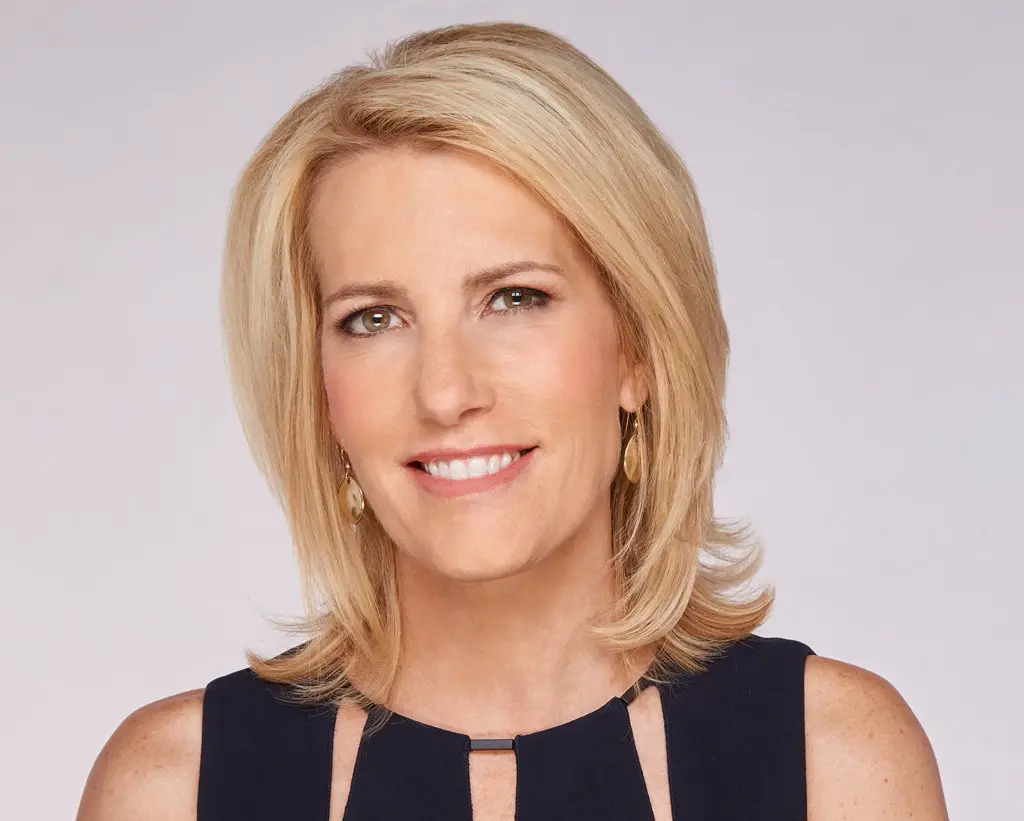 What's more, she is also an author and has written and published numerous books. They include The Obama Diaries, Shut Up & Sing, Power to the People, Won by One: Defeating Obama, Saving America, and many more.
At present, she is the host of a Fox News Channel program, The Ingraham Angle. And the success of the program is touching the clouds.
Laura Ingraham's Net Worth
The multi-talented host has had several selections of careers over the years and has made quite a fortune for herself and her family.
Records say that, on today's date, Laura Ingraham's total worth is nearly $70 million.
She lives in a luxurious house and owns various branded cars that cost millions of dollars. The children live with her in the house, which is situated in McLean, Virginia.
Fox News alone pays Laura a salary of $15 million per year. Aside from that, she earns appearing as CSB's host and commentator of the series 'Watch It.'
Aside from this, Laura has worked as an attorney for reputed international law firms. She, too, has worked as a speechwriter during the Ronald Regan administration.
Not only that, Laura Ingraham is an author too. She earns from the sale of her several best-selling books.
Laura Ingraham's Social Media Presence
As the TV show host is related to the media field, it would be a disaster if she did not use social media networks. Laura utilizes majorly-used social media platforms like Facebook, Twitter, and Instagram. And you can see for yourself that her tweets are fierce and speculative.
Though she has got less following on Instagram, i.e., 38.6K, Twitter's handle covers it all with 4.2 million followers. Similarly, she has reached 1.4 million followers on Facebook.
Her Instagram account is 'ingrahamradio,' and 'Laura Ingraham' is her Twitter handle. Likewise, you can find her on Facebook under the username 'Laura Ingraham' too.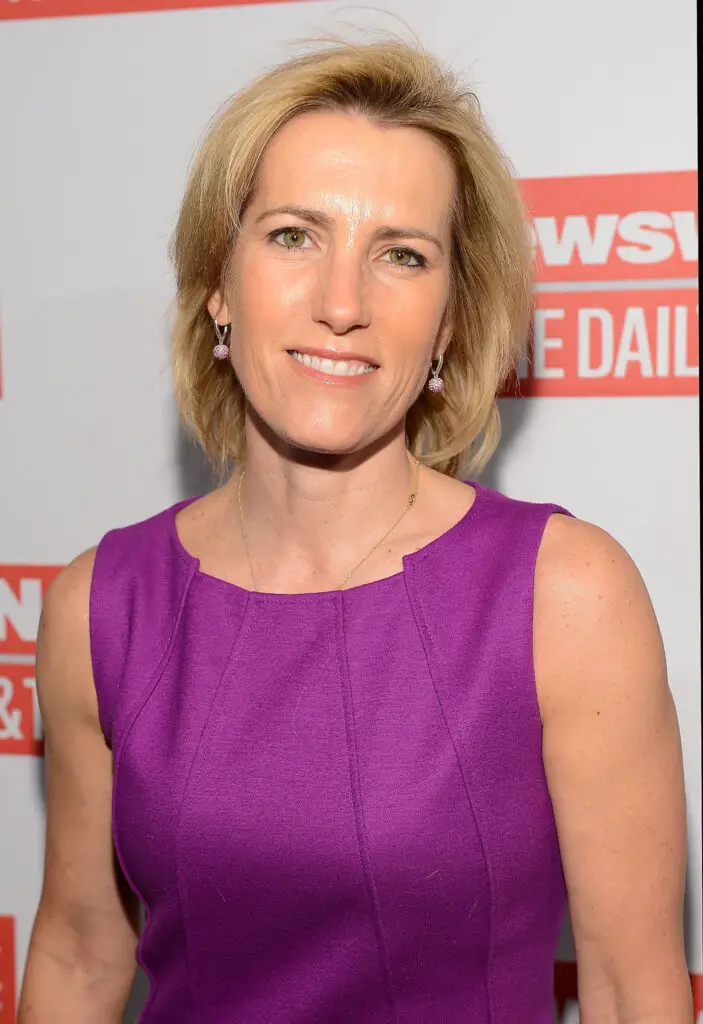 All of her social media accounts are blue-ticked. Also, she regularly updates her accounts and shares personal as well as working hours photos. Ingraham benefits from social media by promoting her work content, different social issues, and her activities apart from hosting.
These are the social media accounts that Laura Ingraham presently uses. Although there is a Wikipedia page in her name, we do not think it would be fitting to add it to the media list. Other than that, there are no known accounts of the conservative anchorwoman.
Furthermore, you can follow Laura Ingraham directly from the links we have shared below.