Who is Gustavo Petro?
Gustavo Francisco Petro Urrego is recognized as the incredible Colombian politician, former guerrilla member, and current president of Columbia. Moreover, he formerly held the office of mayor of Bogota. In the most recent news, he defeated Rodolfo Hernández Suárez in the second round of Colombia's presidential election for 2022 on June 19.
Profile of Gustavo Petro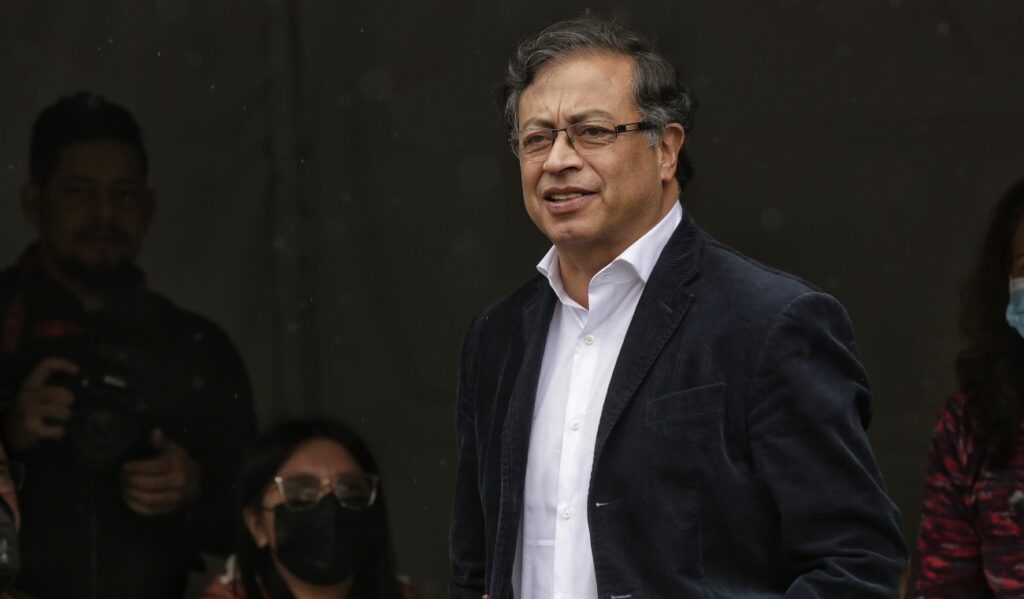 | | |
| --- | --- |
| Full Name | Gustavo Francisco Petro Urrego |
| Popular As | Gustavo Petro |
| Birthdate | 19th April, 1960 |
| Place of Birth | Ciénaga de Oro,  Colombia |
| Gender | Male |
| Profession | Economist & Politician |
| Nationality | Colombian |
| Race / Ethnicity | Undisclosed |
| Religion | Catholicism |
| Education Qualification | Grdauate |
| University | Universidad Externado de Colombia, Pontifical Javierian University |
| Sexual Orientation | Straight |
| Age | 62 Years Old |
| Sun-sign | Undisclosed |
| Eye color | Black |
| Hair Color | Black |
| Height | Undisclosed |
| Marital status | Married |
| Parents | Gustavo Petro Sierra (Father) & Clara Nubia Urrego (Mother) |
| Siblings | Undisclosed |
| Girlfriend/Boyfriend/Spouse | Mary Luz Herrán Cárdenas & Verónica Alcocer García |
| Children | Andrea Petro, Antonella Petro, Sofía Petro, Nicholas Petro, Andrés Petro |
| Net Worth | $2 Million |
Gustavo Petro is the newly-elected president of Colombia who is popularly recognized as a senator, economist, politician, and former guerrilla warrior from Colombia.
Early-life, Education & Family Background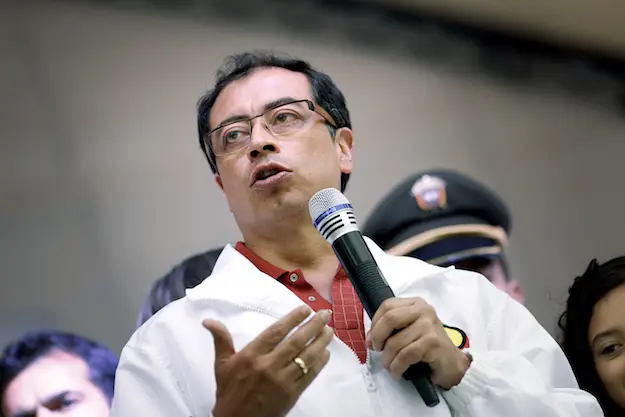 Gustavo Petro was born as Gustavo Francisco Petro Urrego in the province of Córdoba's Ciénaga de Oro on 19th April in 1960. Apparently, he hails from a humble family background where his mother and father both worked as farmers. Accordingly, he was given the name Gustavo Francisco in memory of his father and grandfather.
Particularly, Petro was raised in the Catholic faith and professes to have a liberating theologically based vision of God, whilst having questions about his existence. Regardless, during the 1970s, Petro's family decided to relocate to the wealthier inland Colombian town of Zipaquirá, which is located just north of Bogotá, in hopes of a better tomorrow.
In the meantime, after earning a bachelor's degree in economics from the Universidad Externado de Colombia, Petro enrolled at the Escuela Superior de Administración Pblica for graduate work (ESAP). Following this, he then pursued his economics master's degree at Universidad Javeriana.
Subsequently, Petro relocated to Belgium, enrolling in the Université catholique de Louvain for graduate work in economics and human rights, which he however did not complete. In addition, his doctoral study in public administration at the University of Salamanca in Spain is also unfinished. Reportedly, Gustavo also undertook advanced studies on the environment in Belgium at the University of Louvain as well as in public administration.
Gustavo Petro's Political Career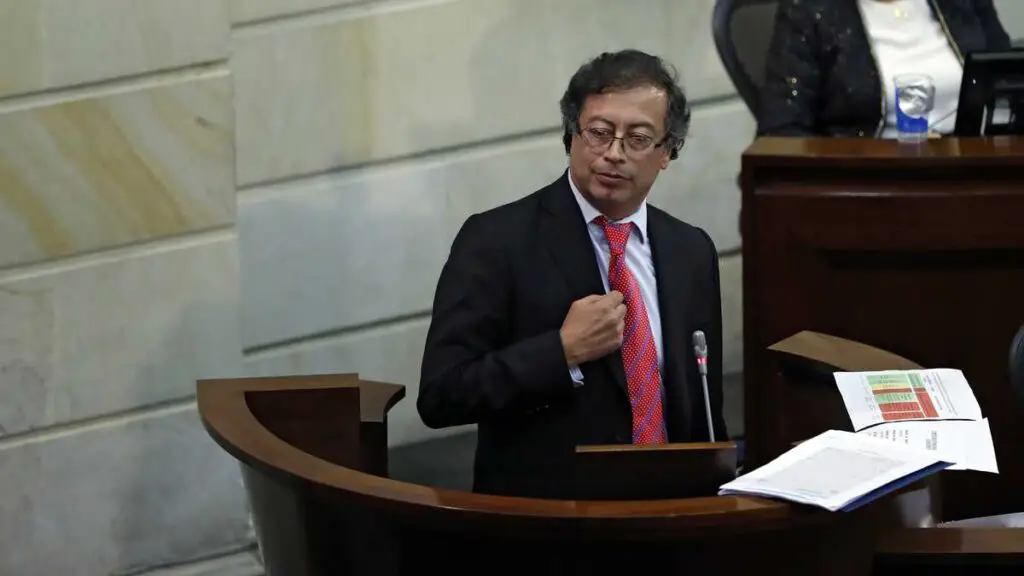 Gustavo Petro had a relatively early start to his political career. Based on reports, at the tender age of 17, he joined the 19th of April Movement, a guerilla organization that eventually transformed into the M-19 Democratic Alliance, a political party to which he was eventually elected. In addition, Petro also served as the Mayor of Bogota, Colombia from 2012 till 2015. Currently he has just updated the territorial plan for Bogotá (POT).
Having previously represented Bogotá as a part of the Va Alterna political movement, Petro was re-elected to the Chamber of Representatives in 2002. Specifically, he co-founded Va Alterna political movement with his former M-19 coworker Antonio Navarro Wolff and other former M-19 members.
Remarkably, he received votes for "Best Congressman" from the press and his his peers during this time. Additionally, he exposed the para-politics crisis, accusing members of the administration and those who support them of working with paramilitary groups to "reclaim" Colombia.
Currently, Petro is a left-wing politician. Prior to this, he was a part of the 1980s revolutionary group M-19. Later, the group changed its name to Alianza Democrática M-19, a political party in which Petro participated in the 1990s as a delegate to the national assembly. Thereafter, he acted as a senator after the 2006 legislative elections, in which his party received the second-highest number of votes in the nation.
It has been alleged that, Petro created the democratic socialist Progresistas movement after having issues and ideological disagreements with the Alternative Democratic Pole leaders in terms of running for mayor of Bogotá, the nation's capital city. Following this, he won the job of mayor of Bogotá, which he assumed on January 1st in the city's municipal elections on October 30, 2011.
Presidential Journey & Election Victory
In 2008, Petro announced his intention to run for president in 2010. Apparently, Gustavo renounced his position in 2009 in order to run for president of Colombia in the 2010 election where he ended in fourth place. Likewise, during his 2nd run for the president, he placed in second place in the 2018 Colombian presidential election, demonstrating significant progress.
Similarly, he received more than 25% of the vote in the first round of the presidential election on May 27, 2018. Nevertheless he came in second and was defeated in the run-off.
In 2021, Gustavo Petro declared his candidacy for the 2022 presidential race. Likewise,  Petro stated in September 2021 that he does not intend to be a "forever candidate" and that if his campaign is unsuccessful, he will leave politics.
Furthermore, on the manifesto, Petro campaigned for the reduction of economic disparity and the substitution of green energy for fossil fuels. He has pledged to concentrate on combating climate change and reducing the greenhouse gas emissions that it is caused by by outlawing the exploitation of fossil fuels in Colombia.
Honors & Achievements
Since the early 1990s, Gustavo Petro has served in a variety of political capacities. Petro first served in the House of Representatives before moving up the ranks to become the mayor of Bogotá and the current president of Colombia. As of now, he has made history as the first candidate to identify as a leftist and win the presidency of Colombia.
Apart from this, he also established the record for receiving the most votes of any candidate in Colombian history. Meanwhile, access to water has been his primary area of governance attention, but more recently, he has addressed the connections between transportation and land use.
Additionally, amid Petro's honors was the "International Youth Fellow- ship" given to him in recognition of his dedication to Colombian youth. Moreover, he acquired one of 2013's "City Climate Leadership Awards" in the Transportation category from C40 and Siemens.
Petro's Personal-life & Relationships
Since little, Petro was acquainted with Katia Burgos. Even as they grew older and became teenagers, the two remained close companions. Later, both of them were in a relationship and shared an apartment. However, the official record doesn't have a lot of details about their nuptials.
After that, in 1992, he wed Mary Luz Herrán. Unfortunately, their bond was split in 2003 after he made a divorce petition.
Subsequently, Petro met his third and current wife Verónica Alcocer García at a conference at Corporacion Universitaria del Caribe, where she was pursuing her law degree. Apparently, García was 24 years old during their initial encounter. Meanwhile, Gustavo's brilliance wowed Garcia, and the two became romantically involved in 2003.
Gustavo's Children
Together with his three spouses, Petro boasts five children, including a stepson. The Colombian president's most well-known child is Nicolás Petro, 34. He is the son of Katia Burgos and Gustavo Petro. In addition, Nicolas is a deputy in the Atlantic Department and an attorney who attended Pontifical Bolivarian University for his education. Further, Nicolas concluded his post-graduate studies in the major of Climate Change in Barcelona.
Similarly, offspring of Gustavo Petro and his second wife Herrán Cárdenas is Andrés Gustavo Petro. Apparently, she received political asylum in Canada. Moreover, Andrea was born in France and pursued her schooling in France, and today she is a contented wife.
In the meantime, Sofa and Antonella Petro are the two daughters that Petro and Verónica Alcocer have together. However, his daughters both keep low profiles and avoid the spotlight of the media. Despite this, Sofia, however, actively supported her father during the presidential campaign and accompanied him in interviews and exchanges with the media.
Lastly, Nicolás Arbeláez, the first Marxist president of Columbia, is his stepson. He is the son of Veronica who was also seen in some of his social media posts.
Social Media Handles of Gustavo Petro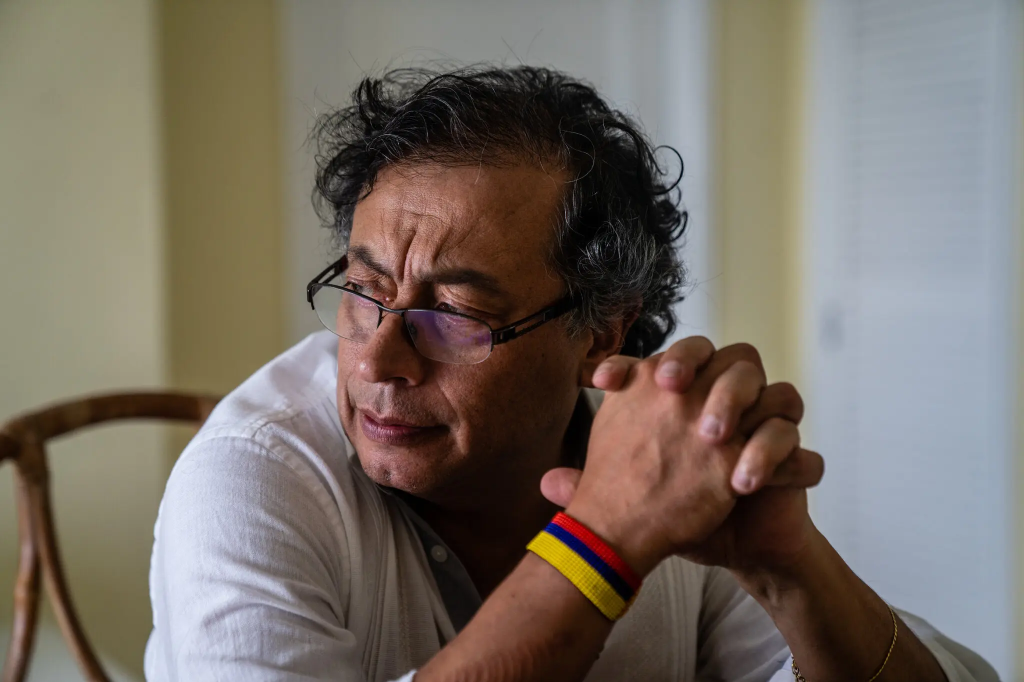 Notwithstanding being politically engaged in Columbia with huge influence, Gustavo is also very popular on social media. With that being said, he is accessible on Facebook where he has 2.5 million followers as of June 2022. Similarly, he has 1.5 million Instagram followers and 5,5 million Twitter following.
Net Worth of Gustavo Petro
Although Gustavo Petro's net worth isn't known with certainty, a number of media sources place the sum at around $2 million (USD). Also, Gustavo Petro's projected salary and income of prior months was around $297,540 which contributed significantly to his net worth. In the meantime, the major source of Gustavo Petro's income is his work as a politician.