Who is Emma D'Arcy?
Emma Zia D'Arcy, popularly recognized as Emma D'Arcy, is a popular uprising English actor acknowledged for their roles in film, television and theatre. Popularly, D'Arcy is primarily recognized for their performance in the British Drama series "Wanderlust" which also marked her professional debut in the scree.
Besides, Emma has been active in the performing profession since 2015 and has been acknowledged by the critiques. Furthermore, Emma has also featured on the renowned television production 'Truth Seekers'.
In the meantime, Emma D'Arcy is scheduled to feature in the most anticipated television series of 2022, "House of the Dragons" which is a prequel of HBO's hit series "Game of Thrones".
Profile of Emma D'Arcy
| | |
| --- | --- |
| Full Name | Emma Zia D'Arcy |
| Popular As | Emma D'Arcy |
| Birthdate | 27th June, 1992 |
| Place of Birth | London, England |
| Gender | Non-Binary |
| Profession | Actor & Theatre Maker |
| Nationality | British |
| Race / Ethnicity | Caucasian |
| Religion | Undisclosed |
| Education Qualification | Graduate |
| University | Ruskin School of Art,  University of Oxford |
| Age | 30 Years Old |
| Sexual Orientation | Non-Binary |
|      Sun-sign | Cancer |
| Eye color | Emerald Green |
| Hair Color | Brunette/ Dark Brown |
| Height | 5'7.5" (171 cm) |
| Marital status | Unmarried |
| Parents | Richard John D'Arcy (Father) & Sally Elizabeth D'Arcy (Mother) |
| Siblings | Loe D'Arcy |
| Girlfriend/Boyfriend/Spouse | Undisclosed |
| Children | None |
| Net Worth | $500k USD |
Early-life, Education & Family Background
Emma D'Arcy was born as Emma Zia D'Arcy on 27th June, 1992 to her parents Sally Elizabeth D'Arcy and Richard John D'Arcy in London, England. In addition, Emma also has an older brother; Loe D'Arcy. As of 2022, Emma is 30 years old while their sun-sign is Cancer. Accordingly, they are of Caucasian descent and holds British nationality. Other than this, their family history, parents, and siblings have not been discussed.
As regards to her academic credentials, Emma pursued a fine art degree at the University of Oxford's Ruskin Art School, giving themself a strong educational foundation. In college, they took part in plays like Romeo and Juliet, The Games We Played, and other theatre projects that helped them gain learning and eventually gain an interest in acting.
Emma D'Arcy's Theatre & Acting Career
Emma D'Arcy seems to be a career-focused persona having their stunning appearance and great acting abilities. Meanwhile, D'Arcy has also gained a considerable amount of admirers because of her reputation for having a diverse range of acting and creative abilities. They are a skilled actor with a solid theater background. Regardless of being inherently gifted, they have improved her performance strengths by pursuing professional acting. At present, Emma is signed to and represented by a UK-based management firm called 'Roxanne Vaca Management'.
In the very beginning, theatre was where D'Arcy started her acting career, and she has appeared in a number of plays, including 'Romeo and Juliet', 'The Games We Played', and 'The Crucible at The Yard' Theatre, as well as 'Against at the Almeida' Theatre.
Ultimately, D'Arcy, who commenced their career in 2015, has had a significant impact on the public's perception of them, particularly as a result of their performances in the critically acclaimed films "Wanderlust" (2018) and "Truth Seeker" (2020). D'Arcy further had an appearance in Nick Payne's BBC One and the second season of the "Hanna" series on Amazon Prime Video. Additionally, they have credits for appearing in the 2020 movie "Mishbehavior," directed by Philippa Lowthorpe.
Moreover, D'Arcy is well recognized for their roles in television series like Amazon Prime Video's "Truth Seekers" and the Netflix co-production "Wanderlust." Furthermore, D'Arcy will portray Rhaenyra Targaryen in the HBO popular series "House of the Dragons," which is a prequel of HBO's hit series 'Game of Thrones'. Based on media reports, the series stated filming in April 2021 and its first season is scheduled to premiere in 2022. Meanwhile, the show consists of ten episodes.
D'Arcy's Personal-life & Relationships
Emma D'Arcy appears to be an extreme private person and thus has seclusion preferences as well as avoids the glitzy world of social media. This gives the impression that Emma is currently only interested in their work.
At present, D'Arcy is apparently single and not in a relationship with anyone. They are supposed to be content with her single existence and have no rumor or confirmation concerning D'Arcy and their relationship status. Emma, in particular, enjoys being outside and  enjoys spending time in and around nature.
In terms of her gender identity, D'Arcy uses the pronouns they/them and identifies as non-binary (i.e., neither a man nor a woman). D'Arcy further represents the LGBTIQ community since they don't use the pronouns she/her and he/him when identifying their gender identity and gender expression.
Physique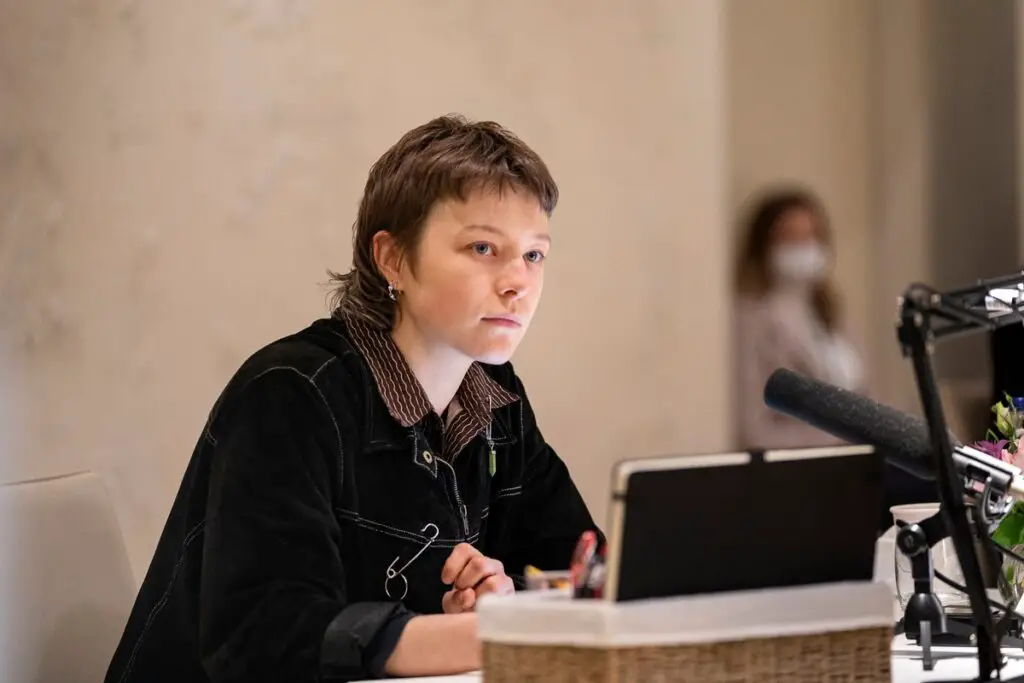 Emma D'Arcy weighs about 53 kg, while standing at a height of 5 feet and 7.5 inches (171 cm). They have a slender physique and have gorgeous, dark brown hair and emerald green eyes.
Social Media Handles of Emma D'Arcy
D'Arcy is a very private individual, thus they doesn't use social media extensively. Previously, D'Arcy had a Twitter account with only a little over 1,000 followers, however, D'Arcy is now only active on Instagram. As of July 2022, according to the data, D'Arcy has 16.5k Instagram followers. Emma doesn't, however, utilize social media to advertise herself.
Net Worth of Emma D'Arcy
Emma made her professional screen breakthrough  not long ago, but since then, she has gone on to establish a significant name for herself in the entertainment industry as well as a reliable source of income. Reportedly, their personal net worth as of 2022 is approximately US $500,000.
Further, it is predicted that the actor's net worth will expand following the publicly anticipated publication of "The House of Dragons".