The small-town girl Aimee Hall is a rising American television personality. Currently, Hall is engaged in Floribama Shore since 2017. The American Television series is aired on MTV and is popular for partying, working, and adjusting to a new environment.
Moreover, the show is shooted during the summertime. Aimee has gained a lot of attention from this series that she has been named as MTVs princess goddess Mermaid. The public figure's middle name is Elizabeth.
In addition to being a TV personality, the gorgeous can be seen doing modeling for quite famous brands. Also, Aimee is doing paid promotions.
Talking about her personal life, she is unmarried but is in a relationship. We will cover this topic below.
Aimee Hall's Profile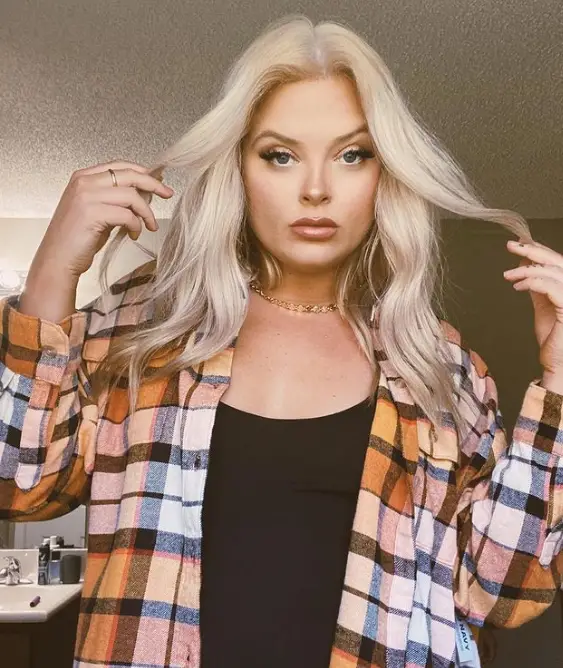 | | |
| --- | --- |
| Name | Aimee Elizabeth Hall |
| Nickname | Princess Goddess Mermaid |
| Gender | Female |
| Profession | Model, Bartender, TV Personality |
| Height | 5 Feet 8 Inches |
| Weight | 65 kgs |
| Body Size | Unknown |
| Eye Color | Blue |
| Hair Color | Blonde |
| Date of Birth | 1st October 1992 |
| Age | 29 Years |
| Zodiac Sign | Libra |
| School | Baldwin County High School |
| College and University | Unknown |
| Education Qualification | Not Known |
| Degree | Not Known |
| Religion | Baptist (Christian) |
| Ethnicity | White |
| Cast | Hall |
| Address | Atmore, Alabama |
| Marital Status | Unmarried |
| Spouse name | Not Applicable |
| Children name | Not Applicable |
| Parents | Teresa Hall Travis and Farrell Travis (Step-father) |
| Siblings | Hunter Travis (Step-Brother) |
| Pet | Princess Goddess Piggy ( Pig) |
| Net Worth | $50,000 |
Aimee Hall Net Worth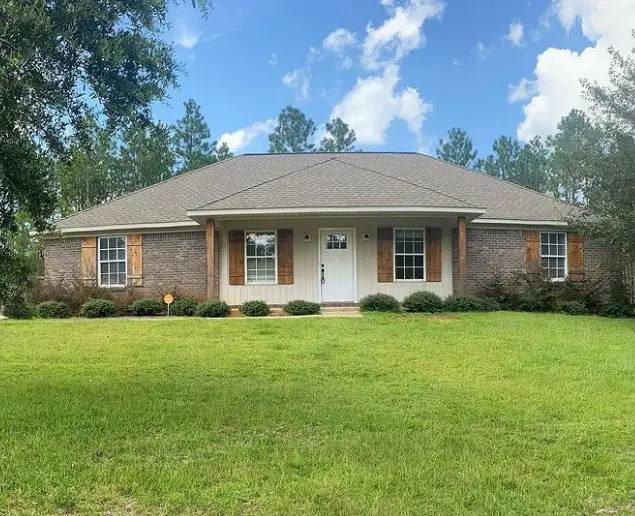 Despite her popularity, there is not much information about her Net Worth. The information is still unclear about her wealth.
However, it can be estimated that she has around $50,000 accumulated as a Net worth. Before appearing in Floribama Shore, the Alabama native used to be a bartender in Bay Minette.
Later, after she got the opportunity to cast in the reality show, she continued her acting with a modeling career, her thrift shop.
For instance, Aimee can be seen modeling for BooHoo clothing, Tropic House Swim, and Pretty Rebellious Boutique. In addition to this, she is also engaged in promoting Fashion Nova.
The TV personality has also acted in a short film. She played the cast of Becky in Hollywood highland which was released in 2018. The film was directed by Glam Barbarona.
Prior to working in Floribama Shore, the actress was called in for Party Down South. Unfortunately, the series was discontinued due to unknown reasons. Luckily, Aimee was called in for Floribama Shore where she is the Goddess Mermaid.
When is the Birthday of Aimee Hall?
The Alabama girl celebrates her birthday on 1st October. Currently, she is 29 years old. Given that, Ms. Hall belongs to the Libra star sign.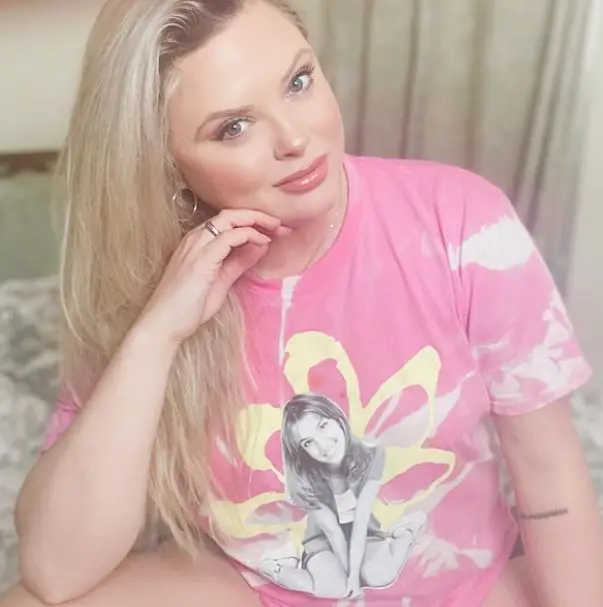 The model grew up in the town of Perdido, Alabama. Reportedly, the town is extremely small with only around 11.17 square meters of area. In addition to this, the population count is only 221.
Another fun fact about the town, it has no traffic lights because of its small area.
Aimee Hall's Height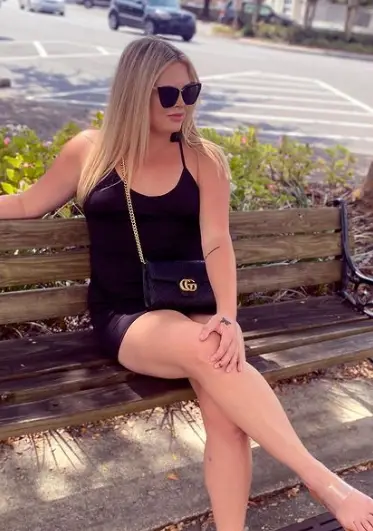 The stunning model has a height of 5 feet and 8 inches. There is no doubt that Aimee Hall is taller than the average woman. Moreover, there had been reports of her losing weight.
Given that, the TV personage is around 65 kg and has a curvy figure. Undoubtedly, she is extremely gorgeous and photogenic.
The body measurement of the actress is still unknown. However, her pictures suggest that she has lost weight over the years.
Naturally, Aimee has beautiful blonde hair. In addition to this, her eye color is blue, and loves fishing.
What is the Instagram of Aimee Hall?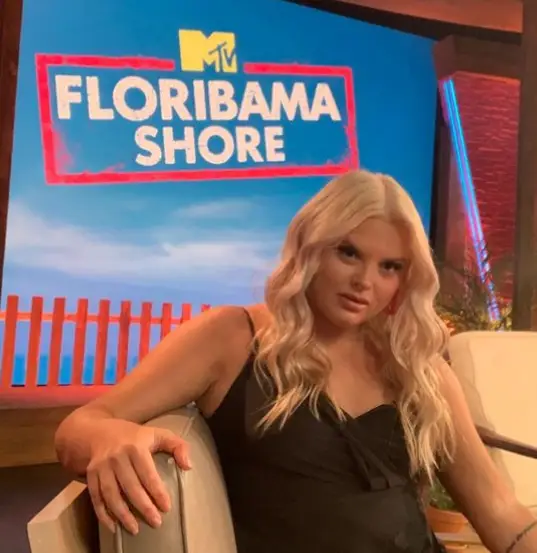 The Princess Goddess Mermaid of MTV's Floribama Shore is already verified on Instagram. Aimee Hall can be found on Instagram at @aimeeelizabethhall.
Undoubtedly, the Instagram model is extremely lively in her account. Likewise, she has over 825 posts. Similarly, Hall follows 751 users from her Instagram.
The public figure has 550k followers as of now. Most of her posts are about herself. She seems to be very transparent through her caption in the pictures.
Besides this, her Instagram is full of her promotional activity. Moreover, she is available on TikTok and has shared reels as well.
If you want to follow her on social media, you can click the link below:-
Aimee Hall's Family
As mentioned earlier, Aimee Hall was born in a small town in Alabama. Unfortunately, there is not much information about her family. She hasn't shared many pictures of her family either.
Teresa Hall Travis who is the mother of Aimee Hall is reported to have raised the model alone for a while. Later, Mrs. Travis married Farrell Travis who is stepfather to Aimee Hall.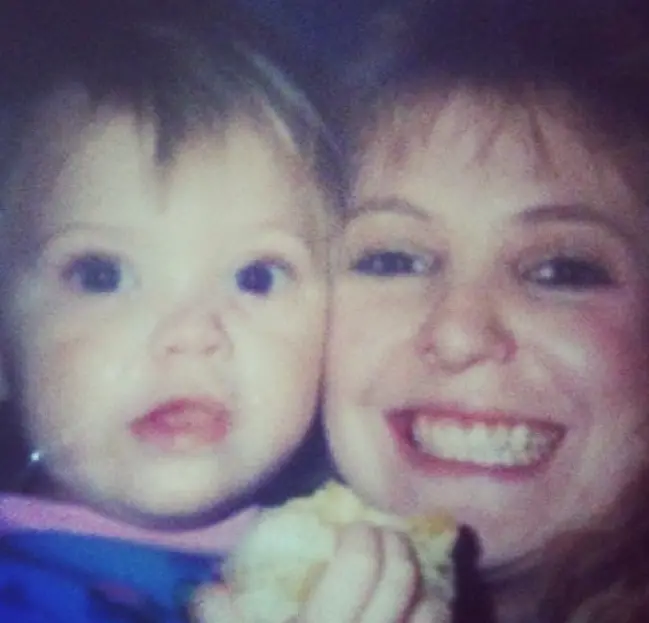 There is no information about her brother. However, she has a stepbrother named Hunter. Aimee had shared a picture with her brother a few years back.
Other than this, Ally Hall made an appearance in the show. In relation, Ally and Aimee are cousins.
However, there are no details about her biological father. Hopefully, she will soon share about her childhood without her real father around her.
Snapchat of Aimee Hall
Snapchat had taken a huge rocket of success in the early years. Even Aimee Hall has her own Snapchat, she can be found at aimeehofficial.
Sadly, there is not much to speak about the posts on her Snapchat. However, Aimee is catching up with the trend with TikTok. Moreover, her tweets are also famous.
Who is the Husband of Aimee Hall?
The Striking and Curvy Model has no husband as of 2021. Even her relationship status is confusing to many. Before her career in Floribama Shore, she was indulged in a toxic relationship.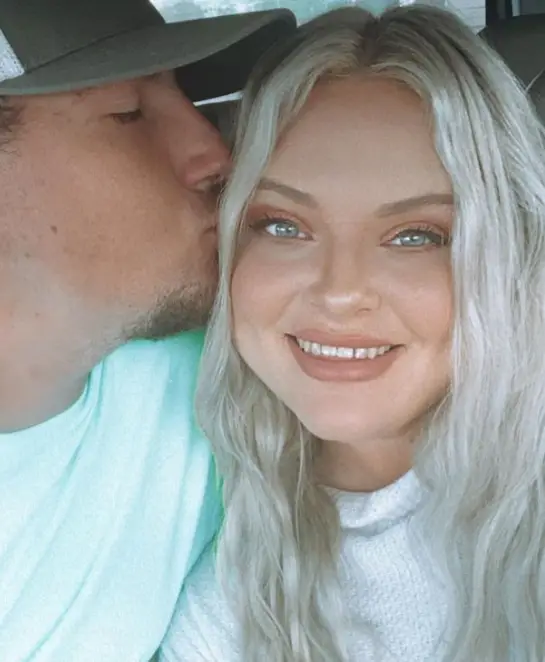 As per Aimee, getting over the relationship was extremely difficult for her. Even though she hasn't disclosed his name, she did mention the reason for breaking up.
Hall stated that her ex-boyfriend had cheated on her with her cousin. Moreover, He made another girl pregnant while they were in a relationship.
Currently, Aimee is in a complicated relationship with Dillon Johnson. It is still unclear about when they started dating but their relationship was facing troubles earlier in 2019.
In one of the episodes of the show, Aimee found out that Dillon is using drugs and on top of that cheating on her. Later, Aimee confirmed the news but explained that they are getting back together.
Even though they are still meant to be together, the model posted a confusing caption. On October 13, 2021, she posted a picture with the caption "Better single than taken.. for granted. 💙".
Moreover, the duo has stopped posting about each other. Then again, she hasn't deleted any pictures with him.
Some Facts on Aimee Hall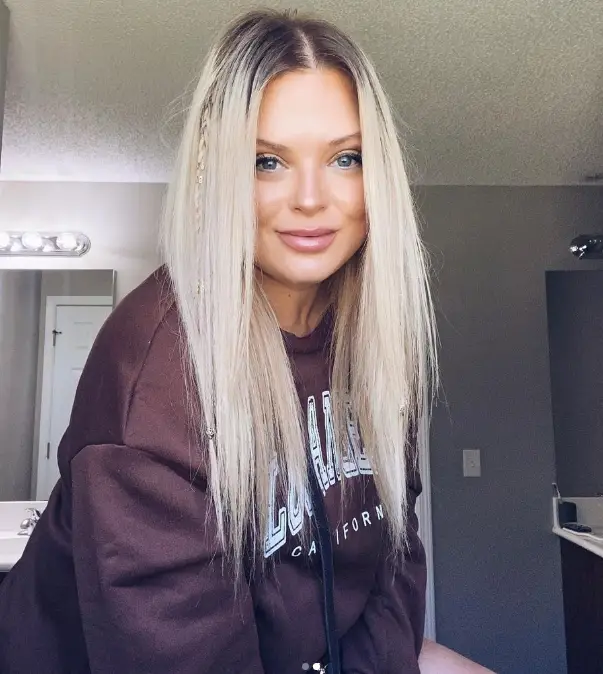 Aimee Hall and her mother celebrates their birthday together as they were born on same day.
The model belongs to a very small town with few population.
Prior to appearing on screen, she was a bartender at the Scrap Yard.
In 2018, she was sued by Melissa Bensinger in which Aimee had to pay $4,357.08 fine.
The uprising actress had bought her own house in 1st September 2021.
She was raised as a baptist.